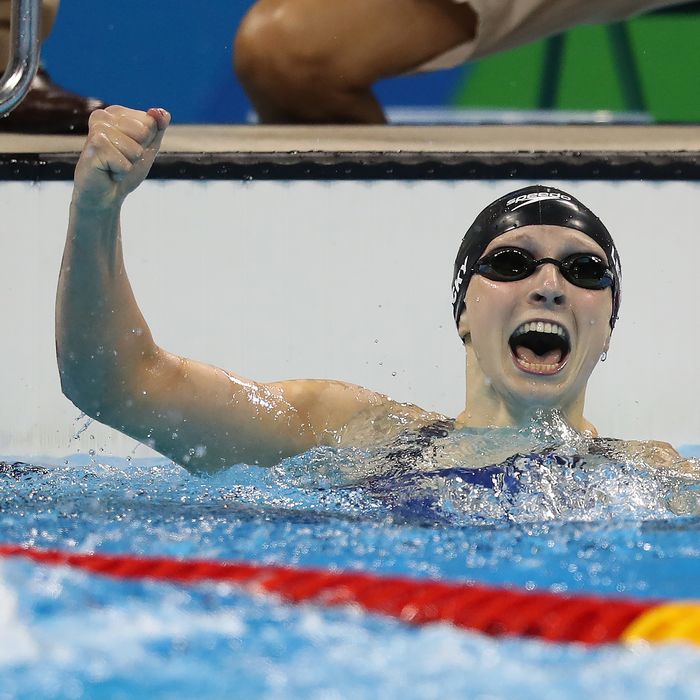 Katie Ledecky celebrates her win.
Photo: Ian MacNicol/2016 Getty Images
Katie Ledecky already holds the world record in the 400-, 800-, and 1,500-meter freestyles, so now all that's left for the 19-year-old Washingtonian is to beat her own scores. She did that with flair on Sunday, finishing the 400-meter freestyle in three minutes, 56.46 seconds. In addition to winning the gold, Ledecky beat her old record of three minutes, 58.37 seconds. When she kicked off the first wall, she had a lead of almost a body length. Silver medalist Jazz Carlin of Britain was almost five seconds slower.

Ledecky set the previous record nearly two years ago, and according to the New York Times, she holds all ten of the fastest performances ever recorded in the 400. This is the 12th world record she's set since the 2012 London Olympics.

This may be just the beginning of her success at the Rio Olympics. Ledecky still has the 200- and 800-meter freestyle events, and the women's 4x200 free relay. USA Today reports that she could potentially bring home five medals and may become the first woman to win three individual freestyle gold medals in one Olympics since Debbie Meyer in 1968.