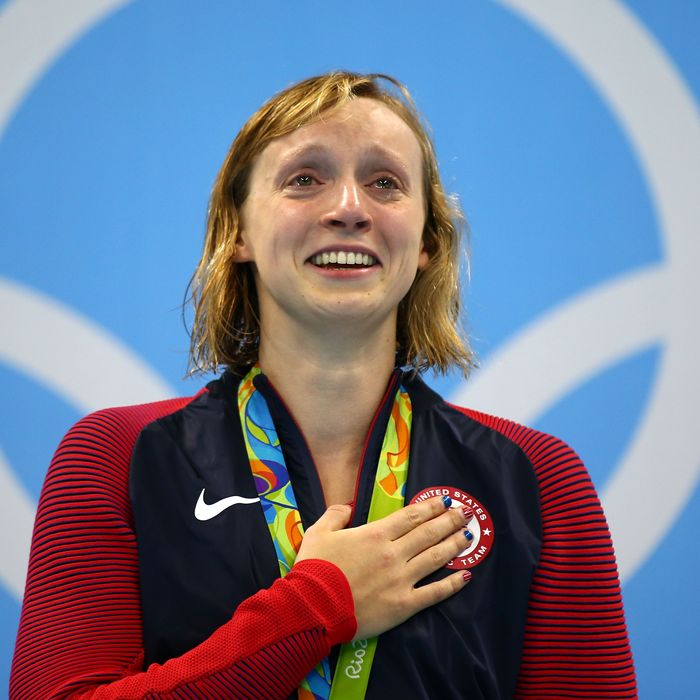 Ledecky has become only the second woman to win three individual freestyle events in one Olympics.
Photo: Clive Rose/Getty Images
Team USA swimmer Katie Ledecky won her final race, and fourth and final gold medal of the Rio Olympics, on Friday night, defending her 2012 title in the 800-meter freestyle and finishing the eight-lap race an incredible 11.38 seconds ahead of her nearest opponent, which looked as remarkable as it sounds:
It was the second-largest margin of victory in the women's 800-meter freestyle ever. Ledecky also broke her own world record in the race for the fifth time, finishing in 8 minutes, 4.79 seconds — shaving almost two seconds off her previous record. She has now won four gold medals in Rio, and has joined American Debbie Meyer in the history books as the only other woman to win three gold medals in individual freestyle events at one Olympic Games. Meyer, who completed her feat at the 1968 Games in Mexico City, won the 800-meter that year by the largest margin of victory ever (11.7 seconds) — but Ledecky finished the race on Friday night a whopping 80 seconds faster than Meyer did in '68.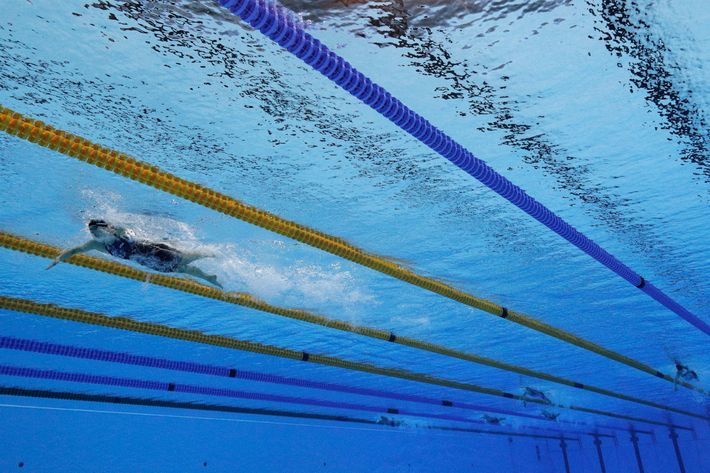 Ledecky is also now one of only three American women to earn four gold medals at a single Olympics, having won the 200-meter, 400-meter, and 800-meter freestyle, plus the 4 x 200-meter freestyle relay. (She also won a silver medal swimming the anchor leg of the 4 x 100-meter freestyle relay.)