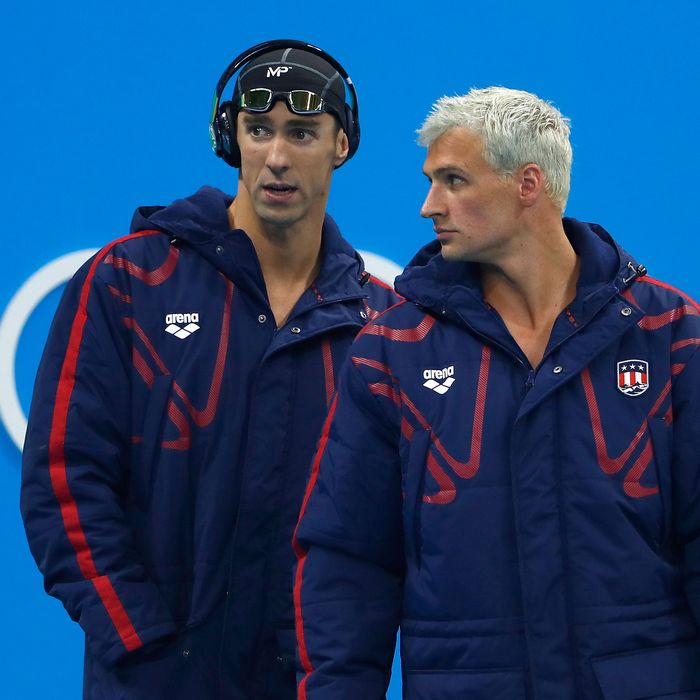 Lochte (right), and Phelps (left), who ruined everything.
Photo: Clive Rose/Getty Images
Amphibious frat-boy Ryan Lochte has 12 Olympic medals, which would make him the most decorated American man in Olympic history were it not for Michael Phelps. One gets the sense from an interview released Thursday by NBC that Lochte thinks about that a lot.
Asked if he's glad to have competed in the same era as the most dominant Olympian ever, Lochte answers with a quote that could only come from the guy who tried to wear a Paul Wall–designed grill on the medal stand. "Yes and no," he says. "My career would definitely be different. I guess you would say I would be like the Michael Phelps of swimming if he wasn't there."
Is that true? To quote Lochte, "Yes and no." If it weren't for Phelps, Lochte would have more medals than any American man. His next Rio medal would give him more than any American, man or woman. That would be huge. He'd be everywhere. His dimples would have their own endorsement deals. His shoe collection would be even bigger. But he wouldn't have anywhere close to the 25 (and counting) medals that Phelps.
On the other hand, maybe he wouldn't be as good as he is. This is a complicated hypothetical for any athlete who's gone up against a generational talent. Without Phelps, Lochte might be the greatest American Olympian ever. Or maybe if he wasn't pushing himself to keep up with a dolphin-shaped merman, he would never achieved enough success to get his name on the bottom of a pair of shoes.