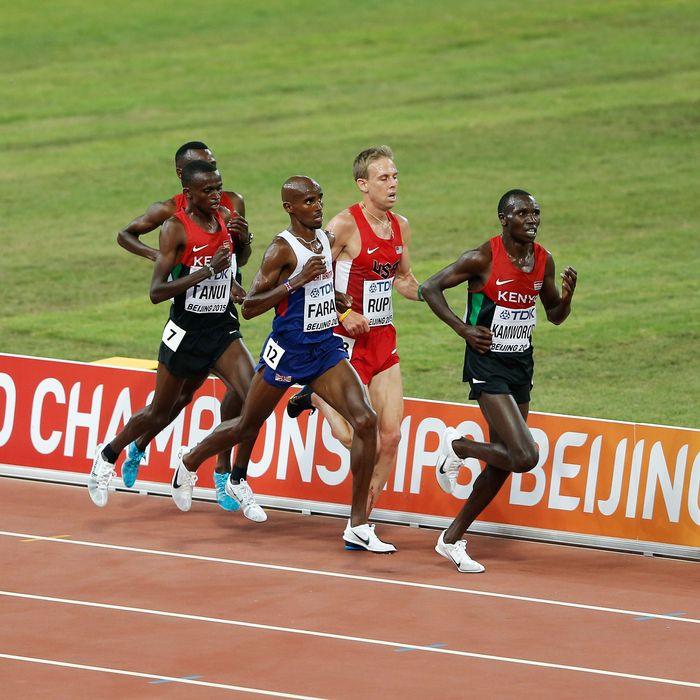 Runners Paul Kipngetich Tanui of Kenya (second left), Mohamed Farah of Great Britain (center), and Geoffrey Kipsang Kamworor of Kenya (right) in the men's 10,000-meter final at the 15th IAAF World Athletics Championships Beijing 2015.
Photo: Lintao Zhang/Getty Images
One of the most thrillingly strategic races at last year's track-and-field world championships in Beijing was the men's 10,000 meters – an event that is being contested Saturday in Rio. Yet, as with every other elite distance-running race these days, its result was unsettling.
The favorite then, as he is this year, was Great Britain's Mo Farah. Farah is the greatest distance runner of his generation, with the fastest finishing kick. He won the 2012 Olympic and 2013 world championships races, both of which were run at a slow pace. But he was bested at the 2011 world championships by Ethiopia's Ibrahim Jeilan, when the pace had been fast. It's widely believed that the only way to beat Farah is to set a grueling pace and hope it drains the kick out of him.
In Beijing last year, the three Kenyans entered in the race — Geoffrey Kamworor, Paul Tanui, and Bedan Karoki Muchiri (all three have made this year's Kenyan Olympics 10,000-meter squad as well) — tried to do just that. They worked as a team, alternating the lead every few laps. By the 6,000-meter mark, the trio had dropped nearly the entire 27-man field. The race had come down to one between five runners: the three Kenyans, Farah, and the American Galen Rupp, who is Farah's training partner at the Nike Oregon Project in Eugene.
There is a risk involved in setting a fast pace: You have to be able to maintain it. It takes a lot of nerve, and incredible conditioning. At one point when the Kenyans slowed, Farah took the lead himself, in what appeared to be a kind of taunt. Kamworor regained the lead immediately. The Kenyans pressed on, knocking off each 400-meter lap in roughly 65 seconds, one after the other, like clockwork. As Farah and Rupp shadowed them, matching their every move, the Kenyan trio talked among themselves, appearing to strategize mid-race.
Ultimately, though, the Kenyan strategy would be for naught. Farah took the lead with 500 meters to go and never relinquished it again. He ran his last lap in a blistering 54 seconds, his last 200 meters in an amazing 26. Kenyan Geoffrey Kamworor finished just a half-second behind Farah, followed by his two countrymen and Rupp in fifth, seven seconds behind Farah, in what was his best time of the season.
In one sense, the race offered everything that is great about long-distance racing: a showdown of endurance versus speed; of mental strength versus seemingly incomparable talent; of a team attempting to vanquish an individual superstar. In another sense, it offered everything that is troubling about the sport.
The scandal over the state-sponsored doping in Russia has been well documented. The track-and-field governing body, the International Association of Athletics Federations, was the first sports organization to ban the Russian team from the events it governs at this year's Olympics. But that is not the only acknowledged doping scandal in track and field. In May, the World Anti-Doping Agency recommended that Kenya's anti-doping program be declared noncompliant due to a lack of proper regulatory laws. Since 2012, more than 40 Kenyan athletes have been banned from official competition for doping-related issues, including Rita Jeptoo, the winner of the Boston and Chicago marathons in both 2013 and 2014. Jeptoo's agent, Federico Rosa, is also the agent of Tanui, Muchiri, and Asbel Kiprop, the favorite to win this year's men's 1,500 meters. He was arrested last month on charges of administering banned substances. (He has denied the charges.)
Last year, an investigation by ProPublica and the BBC reported widespread allegations against Farah's and Rupp's coach, Alberto Salazar, and his training group, the Nike Oregon Project. Salazar was accused of giving his athletes performance-enhancing prescription drugs as well as of experimenting with testosterone, another banned substance. (The Nike Oregon Project is currently under investigation by the United States Anti-Doping Agency. Salazar has repeatedly said his team does not dope.) The ProPublica article clearly stated that none of the sources implicated Farah in any way, but Galen Rupp was a centerpiece of the story. Though none of the athletes who finished in the top five of last year's world championships men's 10,000 meters have tested positive for any banned substance, the arrests and accusations swirling around them have drained a lot of the joy and excitement out of moments like the showdown at the end of last year's race in Beijing. That sense of numbness and distrust among fans is as much a condition of the modern sport as the doping itself.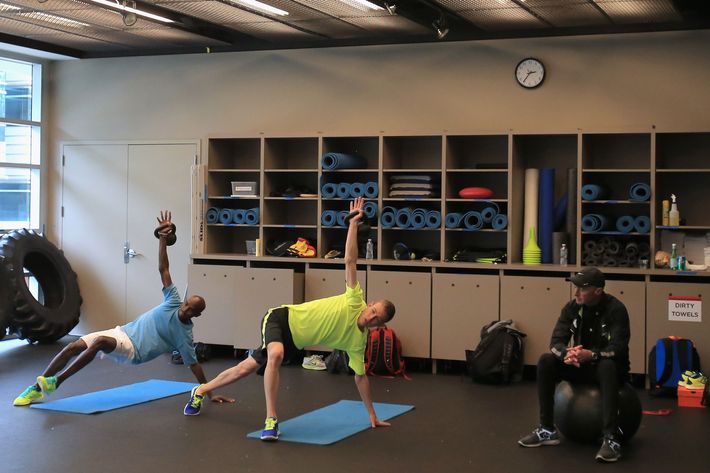 "I give the example of Bob Beamon, who set the world record in the long jump in the 1968 Mexico City Olympics," says Steve Magness, a former assistant coach and scientific adviser at the Nike Oregon Project and one of the main whistle-blower sources in the ProPublica report. "He broke the record by [almost] two feet. That was this huge moment, and that record stood for [23] years. If that happened now, instead of this huge moment, what we'd get is, 'Oh, that guy's on drugs.' And that's incredibly sad, because you lose those moments."
Contributing to the disillusionment is the fact that testing, even when done properly, can often prove futile. "The detection periods where you can catch people are so small," says Magness, now the cross-country coach at the University of Houston. "It's not that the drugs are better now or more undetectable. It's that athletes and coaches and doctors who have been supervising this stuff have realized the clearance times of how to do this more effectively to prevent positive tests."
Of course, it's not as though runners were caught all that much in the past, either. In 2007, during a decade in which very few East Africans were testing positive for doping (in Kenya at the time, the regional anti-doping agency, which also oversees Ethiopia, did not even do out-of-competition blood testing; it only performed urine testing, which is less effective), the Ethiopian-born Turkish runner Elvan Abeylegesse finished second in the world championships 10,000 meters. Eight years later, in a reanalysis of her blood sample from that competition, Abeylegesse tested positive for steroid use. In March, she was banned from the sport for two years. That inability to catch drug cheats in the moment has not only affected fans. It has scarred competitors.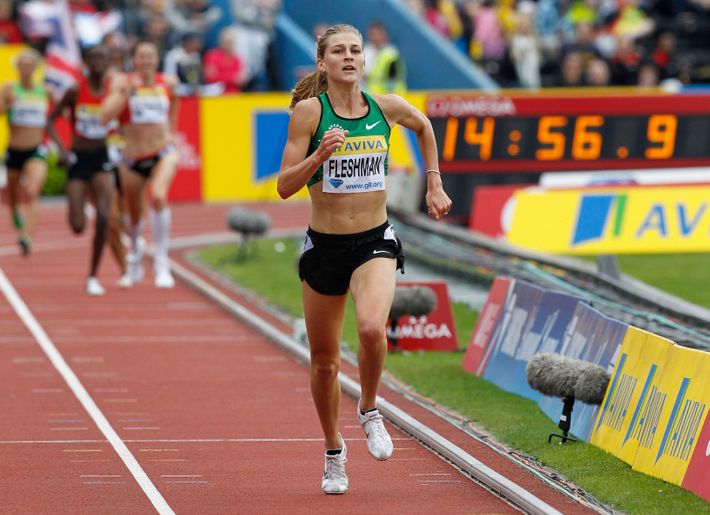 Lauren Fleshman, a two-time U.S. national champion at 5,000 meters, finished seventh in the 5,000 at the 2011 world championships, behind four Kenyans and two Ethiopians. One of the two East Africans she did beat was the Ethiopian Genzebe Dibaba, the favorite to win this year's Olympics 1,500 meters. In June, Dibaba's coach, Jama Aden, was arrested on charges of administering banned substances. Traces of EPO and 60 used syringes were reportedly found in his and the group's trainer's rooms. (Aden denied all charges.)
Fleshman left that 2011 race with an unshakeable feeling that her competitors were doping. She cites the moment in the race with 600 meters to go when in a split second she went from being directly in the thick of medal contention to being left behind as though she were racing a group of sprinters fresh out of the blocks.
After those world championships, Fleshman, who retired from racing last month at the age of 34, felt certain she was no longer competing on an even playing field. She had what she calls "a loss-of-innocence moment." It's what most every clean runner must face at one point in his or her career, she says. "You come up against, for the first time, 'This is not attainable.' There's a loss there, because so much of what we do is believing in magic and believing that we have what it takes. I lost my fake sense of immortality and impenetrability."
"I will definitely say that the doping situation played a role in my decision to retire," she adds.
Last March, at the world half-marathon championships in Cardiff, Wales, Kamworor and Muchiri employed the same strategy against Farah as they had in the 10,000 meters last summer: They set a blistering pace from the start. This time it worked. Kamworor won, Muchiri finished second, and Farah third. It was Farah's first loss at a major championships since the world 10,000 meters in 2011, and it all but assured that the Kenyans would employ the same tactics in Rio for the 10,000 final on Saturday. It should be a strategic drama equal to the best the Olympics have to offer. But whether or not the race will be a clean one, we may never know.

David Gendelman (@gendelmand) is research editor at Vanity Fair.