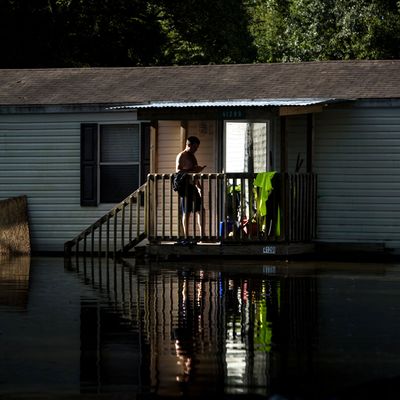 A man stands on the stairs of a home surrounded by floodwaters August 16, 2016, in Gonzales, Louisiana.
Photo: Brendan Smialowski/AFP/Getty Images
The heaviest rains came Thursday night into Friday, relentless, falling at a rate, in some places, of close to three inches per hour. Close to two feet of rain would pummel Louisiana, the disaster zone spanning out from the capital, Baton Rouge. By Saturday, some parishes had seen once-in-1,000-year rainfalls in 48 hours. The downpour ended by Sunday. Even before then, records had been breached: More than 26 inches of rain near Zachary, Louisiana. Twenty-five and half inches in Livingston. A little more than 17 inches swamped Baton Rouge.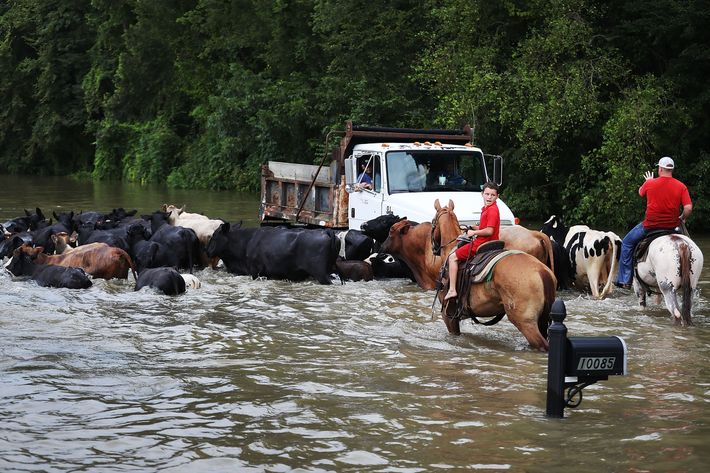 The worst came after. All of that rain had nowhere to go. Drainage systems backed up; rivers and the lakes overflowed, spilling over onto streets and into homes. Inundated cars lay stuck and abandoned on roadsides. The waters uprooted caskets and sent them careening down streets. Rescue teams saved people (and animals) from waist-deep water; one man, clinging to a tree, was pulled to safety by a helicopter. At least 40,000 houses were damaged in the area this week, according to Louisiana governor John Bel Edwards. About 30,000 people needed to be rescued, and more than 8,000 people are still bedding down in shelters. The death toll rose to 11, a number that may go up as the missing are accounted for as relief efforts get under way.
Floodwaters began to recede Wednesday in the hard-hit areas, revealing the scope of the destruction. The homeowners who could returned to residences — or what was left of them — washed out and muddied and a mess of waterlogged debris. A man told the Associated Press he reached his house by boat to find inches of "nasty bayou water," fish, spiders, and the beginnings of mold. One woman, who had hunkered down on her second floor, described the scene at ground level as something out of Titanic. She told the Washington Post: "Everything floating. Things that were in one room are now in another. I lost everything."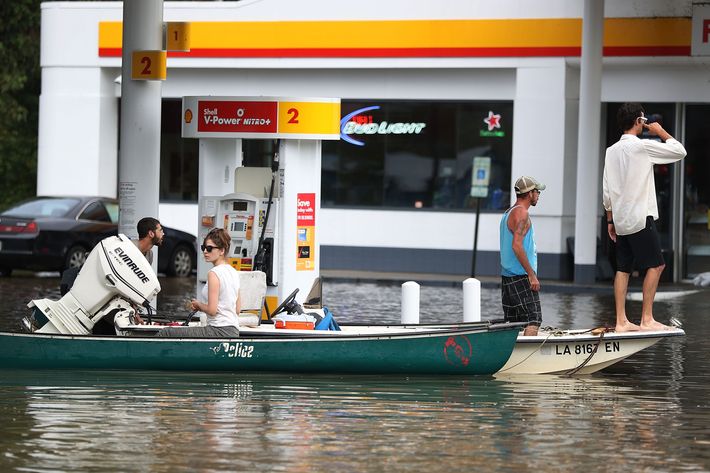 Thousands remain without electricity, and it may take some time to restore power because of safety concerns. Many roads are closed off, and businesses, schools, and government offices are still shuttered. Scattered thunderstorms were expected Wednesday, but officials predicted the worst was over. Still, some parishes were still loading sandbags Wednesday in front of homes, as they prepared for potential backwater floods.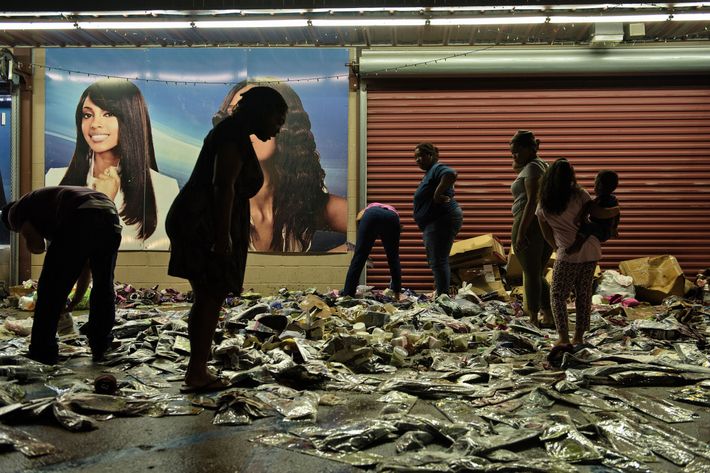 "The current flooding in Louisiana is the worst natural disaster to strike the United States since Superstorm Sandy," said Brad Kieserman, vice-president for disaster services operations and logistics for the Red Cross. The agency, which has 1,000 volunteers on the ground, added that the relief effort would cost at least $30 million.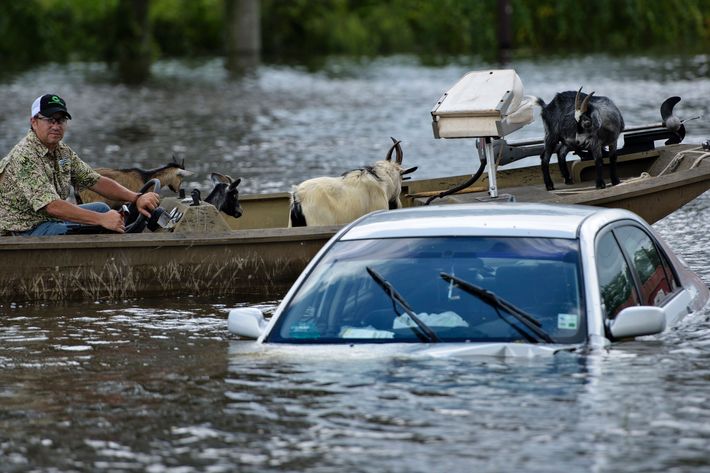 President Obama has declared the state a major disaster zone Sunday. At least 20 parishes are eligible for FEMA assistance, an official told the New York Times. About 70,000 have already applied for FEMA assistance, and teams are already on the ground, with more arriving. Homeland Security secretary Jeh Johnson will visit the region Thursday to survey the damage and meet with state and local officials about the recovery — one that is bound to be long and painful.