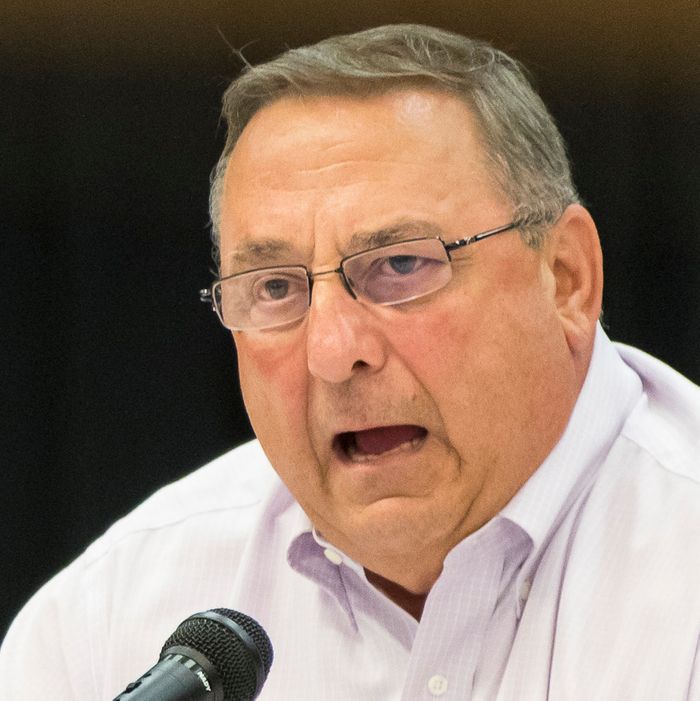 Why make others prove you're a racist when you can just do it yourself?
Photo: Ben McCanna/Press Herald via Getty Images
Maine's Republican governor, Paul LePage, in the throes of a voicemail scandal in which he challenged a Democratic Maine lawmaker to "prove that I'm a racist," said in a Friday press conference that when it comes to racial profiling by police, "the overwhelming majority" of drug traffickers coming into Maine "are people of color or people of Hispanic origin," and thus identified those people as "the enemy" of police who should be shot at. According to the Huffington Post, LePage, after initially denying that Maine police were racially profiling suspects, added:
Look, a bad guy is a bad guy, I don't care what color it is. When you go to war, if you know the enemy, the enemy dresses in red and you dress in blue, you shoot at red, don't you? … You shoot at the enemy. You try to identify the enemy. And the enemy right now, the overwhelming majority of people coming in, are people of color or people of Hispanic origin. I can't help that. I just can't help it. Those are the facts.
On Wednesday, LePage, who is a surrogate for Republican presidential candidate Donald Trump, had said that he kept a binder containing mugshots of drug dealers arrested in Maine, and that 90 percent of those in the binder were black or Hispanic. As the Portland Press Herald reported on Friday, that remark led to an exchange with a television reporter during which LePage came to believe that a Democratic state representative, Drew Gattine, had called him a racist — an allegation Gattine later denied. LePage then left Gattine an obscenity-laced voicemail message on Thursday defending himself, which the Press Herald got a hold of and published:
Mr. Gattine, this is Gov. Paul Richard LePage. I would like to talk to you about your comments about my being a racist, you (expletive). I want to talk to you. I want you to prove that I'm a racist. I've spent my life helping black people and you little son-of-a-bitch, socialist (expletive). You … I need you to, just friggin. I want you to record this and make it public because I am after you. Thank you.
The regularly controversial and often combative LePage then held a press conference where he elaborated that he wished "it were 1825" so he could challenge Gattine to a duel and point his pistol "right between [Gattine's] eyes, because he is a snot-nosed little runt and he has not done a damn thing since he's been in this legislature to help move the state forward."
Gattine, the Press Herald notes, has been a longtime critic of LePage's welfare-reform proposals, and told the newspaper that he agrees that drug traffickers should be prevented from operating in Maine, but that he doesn't "really care what the color is of the people that are importing drugs into this state," and that the treatment and prevention of drug abuse needs be funded along with law enforcement. Regarding the comment that led to LePage's voicemail, Gattine said he had called LePage's "racially charged" comments "not at all helpful in solving what the real problem is," which he says is the crisis of heroin and prescription-drug overdoses in the state.
Earlier this year at a town-hall meeting, when responding to a question about how he was dealing with substance-abuse problems in Maine, LePage offered another fundamentally racist characterization of out-of-state drug traffickers, also reported by the Press Herald:
These are guys with the name D-Money, Smoothie, Shifty — these types of guys — they come from Connecticut and New York, they come up here, they sell their heroin, they go back home … Incidentally, half the time they impregnate a young white girl before they leave, which is a real sad thing because then we have another issue we have to deal with down the road.
That comment, which LePage's communications director initially tried to reframe as not being about race, but about "the cost to state taxpayers for welfare and the emotional costs for these kids who are born as a result of involvement with drug traffickers," drew widespread criticism both within Maine and throughout the U.S. LePage eventually called the remark a mistake, then later referred back to it as part of his clever strategy to get the Maine legislature to escalate its efforts against drug trafficking. (He had additionally suggested publicly beheading drug dealers using a guillotine, French Revolution–style, so LePage clearly likes history at least as much as he likes racial profiling.)
At a GOP fundraiser in 2013, LePage also reportedly said that President Obama could have been the best president ever if he had highlighted his biracial heritage, but Obama hadn't done so because he hates white people.
The Huffington Post notes that 95 percent of Maine residents are white, per the last U.S. census, and according to the American Civil Liberties Union, research shows that black and white people deal drugs at similar rates in Maine, though police in the state are nine times more likely to arrest people of color for the crime.