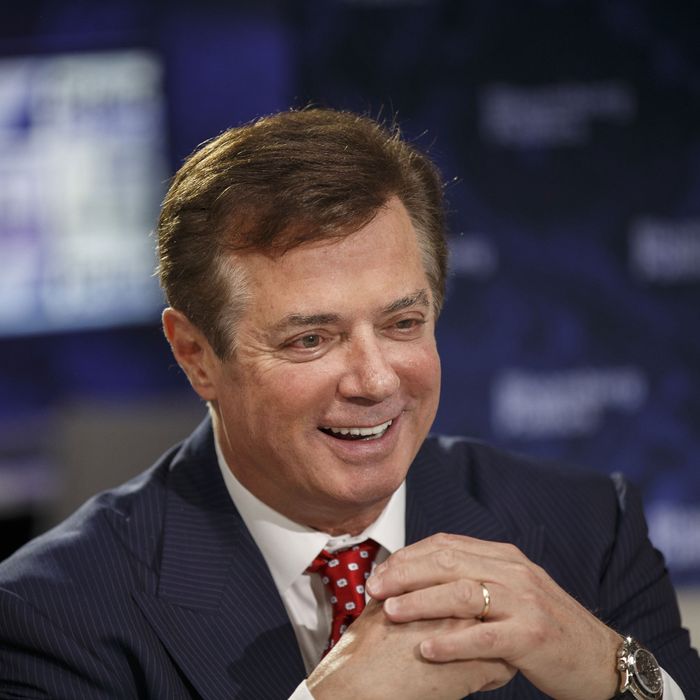 Free at last.
Photo: Patrick T. Fallon/Bloomberg via Getty Images
The chairman and chief strategist of Donald Trump's presidential campaign resigned Friday morning. Paul Manafort's resignation comes amid reports that the longtime GOP operative helped Vladimir Putin's favorite political party in Ukraine lobby the American government without declaring that it was doing so. Which is illegal.
Manafort's ties to the party of former Ukranian president Viktor Yanukovych — and thus to Putin — have cast a cloud of suspicion over Trump's idiosyncratic positions toward NATO and the Russian leader. At the Republican National Convention, the only platform fight the Trump campaign weighed in on was tempering language about America's obligation to assist Ukraine against Russian aggression. Trump's apparent "softness" on Putin invited so many attacks, the candidate eventually felt compelled to turn the tables and assail Hillary Clinton for being too cozy with the authoritarian president.
One might assume, then, that Manafort's departure was inspired by the mounting body of evidence that he subverted American law to aid one of Putin's key regional allies. But according to the Washington Post's Robert Costa, Manafort's sin wasn't his illicit lobbying efforts, but, rather, his insistence that Trump try to restrain himself. Costa reports that the resignation was "expected to come due to the reshuffling of the campaign's staff earlier in the week," which put Breitbart executive Steve Bannon in charge, as part of a new "let Trump be Trump" strategy.
Like another recently disgraced GOP operative, Manafort will remain an unofficial adviser to the Trump campaign.