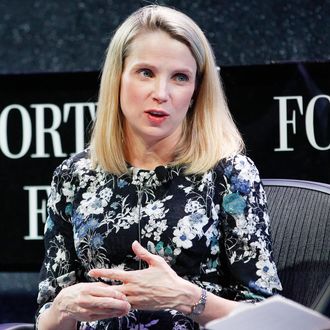 Photo: Kimberly White/Getty Images
In this week's issue of Bloomberg Businessweek, Yahoo CEO Marissa Mayer gives her first interview following the sale of the company to Verizon — confirming that she has no plans to leave the company, contrary to reports that indicated she would leave or be forced out after the sale closed (don't fret for Mayer, who's wearing a $55 million golden parachute).
It's an interesting interview, if only because Mayer has a fascinating way of answering questions. Why was it so difficult for Yahoo to shift to mobile? Mayer indirectly blames it on how bad Yahoo's user base is at understanding the internet. "There were moments in the early 2000s [when Yahoo was so big] that people didn't understand where Yahoo ended and the internet began. It's hard to transition mediums and end up with the same mindshare," she told the magazine. Alternate reading: Our users are old as hell and still tap on their CRT monitors when they want to click something.
Early on in the interview, she attributes her interest in technology to the fact that Stanford was expensive, and she didn't want to learn the same things that "friends who went to the University of Wisconsin-Madison were learning." There are many ways to interpret that! Also, she implied that her job was more difficult than being president of the United States.
There was a time earlier this year when I was running the company, selling the company, bringing on new board members [after Yahoo had settled a proxy war with activist investor Starboard Value], while I had infant twins, and also a husband and a 3½-year-old son. Each of those is a full-time

job.

There was a moment when someone said to me, "Wow, you might be the busiest person on the planet." In the Midwest, where I grew up, you shrug off a ­compliment like that and think a lot of people in the world are really busy, like President Obama. And then President Obama started posting YouTube videos for fun.