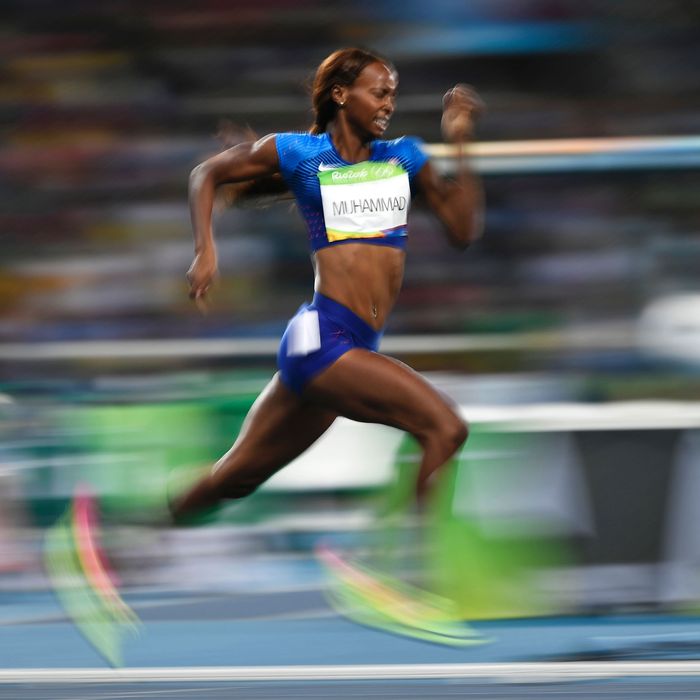 USA's Dalilah Muhammad competes to win the women's 400-meter hurdles final during the athletics event at the Rio 2016 Olympic Games.
Photo: Jeff Pachoud/AFP/Getty Images
U.S. track-and-field athlete Dalilah Muhammad handily won the gold medal for the women's 400-meter hurdles Thursday night in Rio. With that victory, she became the first American woman to take first place in the event.
Her triumph of that less-than-a-minute trip around the Olympic track all began in her Jamaica, Queens, neighborhood — where her family still lives — when she was about 7 years old. "My first coach ever, he kind of just noticed me in the neighborhood, running around, and thought I was fast," Muhammad told Daily Intelligencer before she left for Rio earlier this month. "He asked my mom if I could join the track team." She competed in track and field at Benjamin N. Cardozo High School, in Bayside, where she started to stand out as a hurdles star. She still holds the school record for 400-meter hurdles, set in 2008 (and also, apparently, the high jump).
Muhammad, who graduated from USC in 2012, took her first Olympic appearance in stride. "I'm not going to the race with too many expectations," she said. "Of course, I would hope to win. I think that's everyone's No. 1 goal. I'm going to take it every round, every race at the time."
One round, one race at a time, and a record-breaking finish. But Muhammad isn't the only New York Olympian hauling medals home. Just to name a few: Fencer Daryl Homer, from the Bronx, won the United States' first silver medal in sabre fencing in 112 years. Justin Gatlin, originally from Brooklyn, is the fastest man in the world — after Usain Bolt, that is.