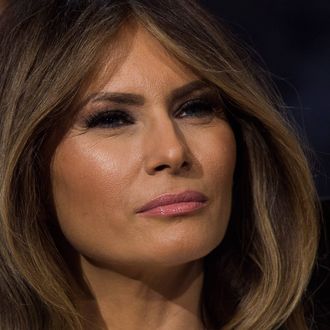 Melania is watching.
Photo: Andres Kudacki
The Trumps know that common interests are an important foundation for a great marriage. Now, it looks like Melania is giving some of her husband's favorite pastimes a try: getting litigious and going after the media.
Charles J. Harder, the lawyer for the potential First Lady, announced yesterday that he has sent letters to multiple news outlets on behalf of Mrs. Trump, putting them "on notice … for making false and defamatory statements about her supposedly having been an 'escort' in the 1990s."
The British tabloid The Daily Mail is reportedly among the publications facing a potential defamation suit from Mrs. Trump, and other news organizations that have received letters include Liberal America, Inquisitr — which had already apologized to Melania and retracted the story — and her husband's old favorite, Politico.
In the statement released by Harder, Melania says she "understands that news media have certain leeway in a presidential campaign" but "outright lying about her in this way exceeds all bounds of appropriate news reporting and human decency."
It's easy to see why Trump objected to the stories. Take, for example, the one run by Liberal America called "Melania Trump Was a Sex Worker After Moving to United States."
Liberal America has since followed the letter of Mr. Harder's email if not its spirit, printing a retraction under the headline "Trump Lawyers Said Melania Didn't F**k for Money, Forced Us to Apologize, So Here It Is." It begins with the line, "This is being written under duress because I don't have enough money to fight a legal battle against the Trump machine."
The "apology" goes on to say that the reporter in question got his "information from reputable sources and reported on what was being reported there." The source he cites is The Daily Mail, so make of that what you will.
If the name Charles Harder sounds familiar to you, that may be because he also represented Hulk Hogan in the wrestler's recent suit against Gawker — a crushing blow to the company, which ultimately led to Gawker Media being sold and, as of yesterday, gawker.com being shuttered permanently. Let's just say an email from Charles Harder is really not what editors want to find in their inbox when they come into work in the morning.
You can read the entire email from Harder here, which calls for sites to permanently remove content that implies Melania worked as a sex worker, run an apology and a retraction, or else, according to Harder, "leave my client with no alternative but to institute immediate legal proceedings against you and … seek all available legal remedies to the maximum extent permitted by law."