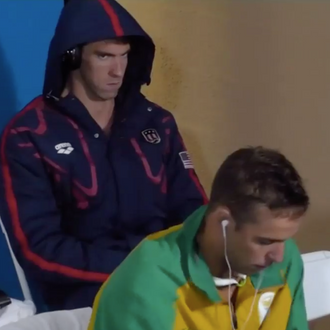 Turns out, Michael Phelps is an instant meme and you don't even have to add water. While sitting and waiting to swim in the men's 200-meter butterfly semifinal tonight, he donned his signature Beats headphones and pulled up his hood while getting into the zone. Nearby, though, rival South African swimmer Chad le Clos was jauntily shadow-boxing right in front of Phelps. Who looked, well, less than thrilled.
Despite the nearby commotion, Phelps remained completely unfazed. The internet took notice — it was impossible not to notice! — and, of course, began to meme. There was the Michael Phelps Gas Face:
The Michael Phelps Side Eye:
Following the semifinals — Phelps took second, while le Clos clocked in behind him, in third place — Phelps swore to NBC that he wasn't paying any attention to le Clos. "I was trying not to really even look at him, " Phelps said. "He does his thing and I do my thing." I guess in this case "my thing" is unbelievable mean mug.