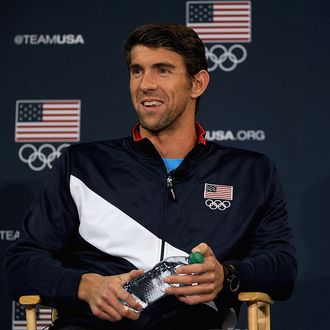 Michael Phelps.
Photo: Jonathan Moore/Getty Images/2016 Getty Images
In his fifth Olympics, Michael Phelps, the most decorated Olympian to ever participate in the Games, will serve as the Team USA flag-bearer, the United States Olympic Committee said this morning.
"I'm honored to be chosen, proud to represent the U.S., and humbled by the significance of carrying the flag and all it stands for," Phelps said in a statement.
The 31-year-old Baltimore native, who's the first American male swimmer to make it to a fifth Olympics, is a 22-time medal winner. That's four more than the next-most-decorated Olympian, Russian gymnast Larisa Latynina. His 18 gold medals are twice as many as the four Olympians tied for second place on the all-time gold-medal list.
Phelps will have three more chances to add to his medal haul in Rio, where he'll swim in the 100-meter and 200-meter butterfly, along with the 200-meter individual medley.