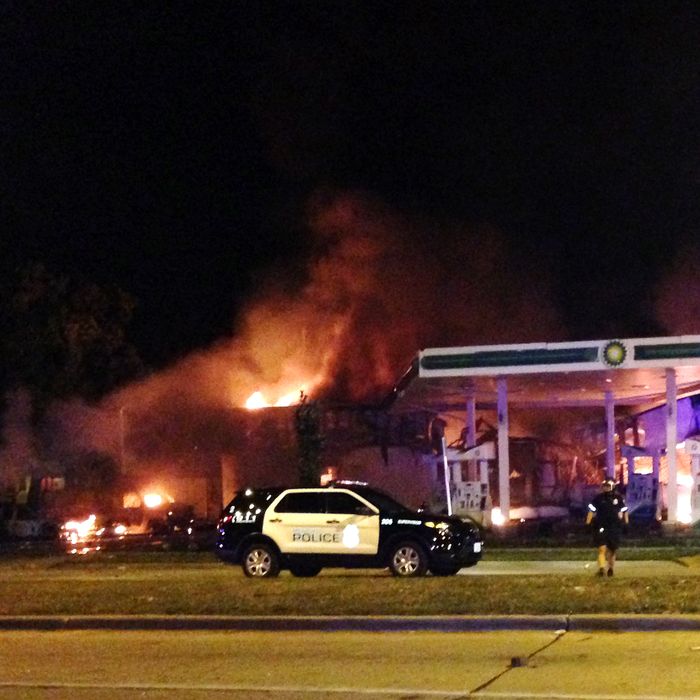 Milwaukee police stand in front of a gas station set ablaze by protesters on Saturday night.
Photo: Gretchen Ehlke/AP Photo
Protests raged in Milwaukee Sunday night, the second night of unrest despite calls for calm from city leaders. One person was shot and hurt very seriously, and officers used an armored vehicle to retrieve the victim and rush them to the hospital, CBS News reports.

Demonstrations first erupted 24 hours earlier, after police officers shot and killed a young, armed black man in the city's Sherman Park neighborhood on Saturday afternoon. Sunday saw more scenes of confrontation. About two dozen officers in riot gear confronted a group of about 150 people blocking an intersection in Sherman Park. As they tried to disperse the crowd and threatened arrests, the protesters responded by throwing rocks and bottles. Local TV footage showed one officer fall to the ground after being hit by an object. They were moved to safety by fellow officers.
Police said a total of four Milwaukee police officers and four Milwaukee County deputies were hurt in the standoff, most of whom were hit by concrete and rocks allegedly thrown by the protesters. At least one injured officer was taken to the hospital after a rock broke the windshield of their squad car.

At least 14 people were arrested in Sunday's clashes between protesters and police. National Guard troops were deployed to the protest scene Sunday in case they needed to assist police officers. Scott Walker had first activated the state's National Guard to assist Milwaukee police officers in restoring calm after Saturday's demonstrations, where hundreds of protesters took to the streets to confront police and express their outrage over the shooting — some eventually setting fires, smashing cars, and throwing rocks at police officers.
Anticipating more unrest Monday night, Milwaukee mayor Tom Barrett enacted a 10 p.m. curfew for all teenagers.
Regarding the shooting that sparked the unrest, CNN reports that, on Saturday afternoon, a pair of Milwaukee police officers chased after two men who had fled following a traffic stop. Police say that one of those men, eventually identified as a black 23-year-old named Sylville K. Smith, was armed with a loaded handgun, and when he did not comply with an order to drop the gun, one of the officers shot and killed him. It is not clear if Smith ever pointed the gun at the officer, but Milwaukee police chief Edward Flynn said on Sunday that the officer's body-camera footage indicated that Smith was "without question" still holding the weapon when the officer fired.
The black 24-year-old officer who shot Smith has been placed on administrative leave pending an investigation. On Sunday, police said that Smith's car had been stopped by the officers because it was "behaving suspiciously." The area where the stop and shooting occurred is a majority-black neighborhood in Milwaukee.
Police also report that the handgun found on the suspect had been stolen during a March burglary, and that Smith had a "lengthy arrest record," including a conviction for carrying a concealed weapon and arrests for multiple nonviolent misdemeanors. In addition, Smith at one point faced felony charges related to a shooting and the intimidation of a witness of a shooting, but those charges were eventually dismissed.

The Wisconsin Department of Justice is investigating the shooting, a requirement for any officer-involved incident that results in a death. Authorities have not released the video — and typically wouldn't until the completion of an investigation — but officials may try to speed up the timeline to help ease tensions in Milwaukee, reports the Journal Sentinel. "[The] DOJ is working expeditiously, and within the parameters of the law, to provide the community a transparent view of the events that took place on Aug. 13," a Wisconsin Department of Justice spokesperson said in a statement.
Smith's mother, Mildred Haynes, spoke with the media on Sunday and said she was "lost" over his death, noting that Smith had a 2-year-old son. She also said that Smith had recently gotten a concealed-carry license after having been shot twice and robbed four times. She added that she couldn't imagine Smith pulling a gun on police officers.
During the mayhem Saturday, at least seven police cars were damaged and six neighborhood businesses — including a bank, a beauty store, and a gas station — were set ablaze. Firefighters reportedly had trouble responding to at least one of the fires because of gunfire in the area.

Milwaukee police report that four officers were injured on Saturday, and 17 people were ultimately arrested.

At a midnight press conference Saturday, Milwaukee mayor Tom Barrett promised a fair and transparent investigation into the shooting. He said that many of the protesters were young and that some had encouraged others to join the unrest via social media. Barrett asked parents in the neighborhood to help get the protesters off the streets. Also speaking at the press conference were Milwaukee aldermen Russell W. Stamper II and Khalif Rainey, who cited the frustrations of the city's black residents, particularly in the neighborhood where the police shooting occurred, as the reason for the night's explosion of anger. Rainey, who represents that neighborhood, also warned that further unrest might result if those frustrations were not swiftly and adequately addressed.
"This entire community has sat back and witnessed how [Milwaukee] has become the worst place to live for African-Americans in the entire country," Rainey claimed on Saturday night, calling the protests a "warning cry." On Sunday morning, community groups organized a cleanup of the affected areas, and at least one additional demonstration against police violence occurred again around midday.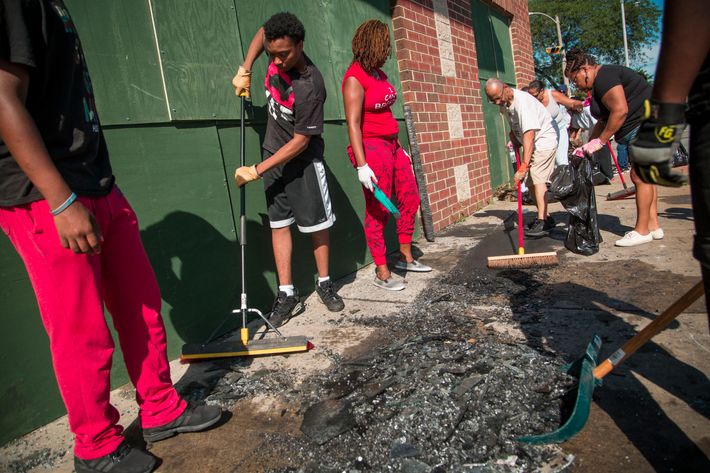 The Journal Sentinel notes these protesters aren't the first tense episode between the community and police:
In early July, a group of several dozen young people threw rocks and bottles, damaging windows of a gas station and a county transit bus near Sherman Park. Law enforcement beefed up their presence for several days there. Some activists said it was an intimidating presence. At the same time, the incidents also led to a surge in residents and local leaders promoting positive activity

there. The gas station, a

BP

, that was the scene of the July incident, was the station that burned Saturday night.

Regular protests also followed the fatal police shootings of Jay Anderson in Wauwatosa in 2016 and Dontre Hamilton in Milwaukee in

2014. On the same day federal prosecutors announced they would not seek charges against the ex-officer who killed Hamilton, Milwaukee Police Chief Edward Flynn requested the

U.S.

Department of Justice review the Police Department.

In addition, on Friday night, five men — all under the age of 36 — were killed in separate shootings in the city over the course of only nine hours.
This post has been updated throughout.