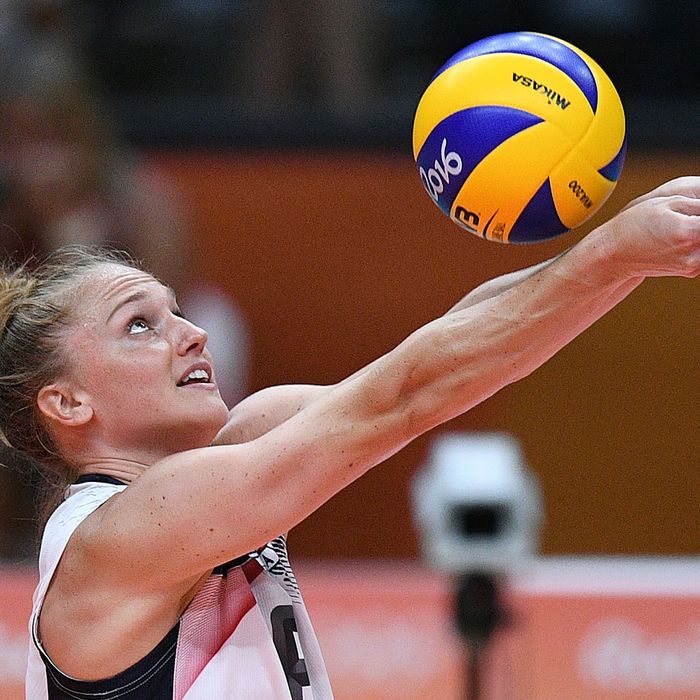 Volleyball player Carli Lloyd, daughter of Cindi Lloyd.
Photo: Johannes Eisel/AFP/Getty Images
The Olympics are always full of gut-wrenching defeats and mishaps, but perhaps none compare to the saga of this suitcase caught in the crosshairs of Brazilian security.
Cindy Lloyd, mother of U.S. volleyball player Carli Lloyd (not to be confused with the soccer star), had her suitcase blown up because security apparently thought the luggage contained an explosive device which turned out to be some shampoo, a cell phone, and a charger — suspicious items authorities removed before they blew up the bag. Lloyd, who checked in and dropped the bag with the cruise line where she was staying, returned to this scene of destruction. "The handle was nowhere," Lloyd told the New York Times. "It was completely blown up. There was some clothing. They use some sort of wet bomb, I think, because everything was wet. Some of the clothes were salvageable, but some were melted. Some had holes. My American flag was melted. And all the toiletries with caps had their caps blown off."

Lloyd seems pretty chill about the whole incident, though she was still wearing "a shirt with holes in it because she had not had time to go shopping." The disaster Olympics, indeed.