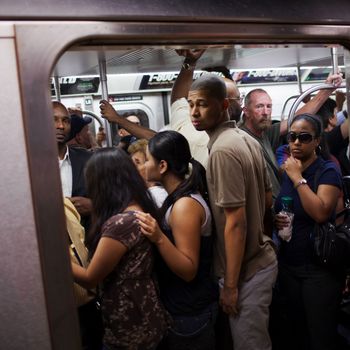 People probably fleeing the broken A/C next door.
Photo: Robert Nickelsberg/Getty Images
An otherwise packed train pulls up at the subway platform, and there's one car with just a smattering of riders and plenty of empty seats. What does a rational commuter do?
The answer is race to the next car, always. But if it feels as if you're forced to make this choice more frequently this summer, you might not be wrong. The MTA says complaints about hot cars with broken air conditioners are up this year – between 12 and 16 per day. The 1 and 6 trains see the most cases. Both use an older model of car called the R62A (built in 1980s), which only has one air compressor for each A/C unit. So if that conks out, so goes the cool air for the entire car, an MTA spokesman explained to WNYC earlier last month.
Then again, the rise in complaints might just mean commuters are being more vocal about A/C issues – and the MTA has been asking riders to report the problem cars. Straphangers are obliging on Twitter. (The MTA responds with its apologies, and often gives a case number.) WNYC, however, did document some "repeat offenders," which have been breaking down and apparently torturing riders throughout the summer.
According to the New York Times, the agency does try to repair these cars as quickly as possible, but usually must wait to take them offline at night or on the weekends to avoid interrupting service and trading a sweat room for subway delays.