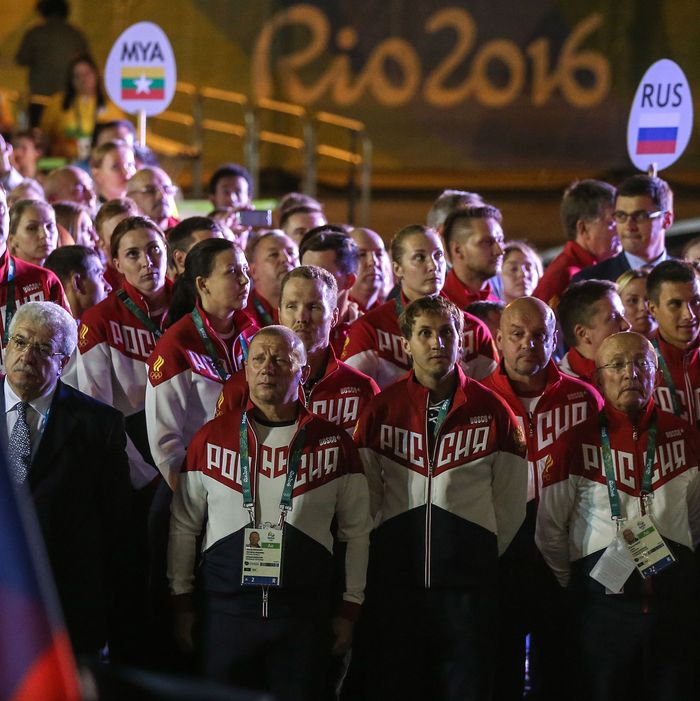 Adeus (to some, at least).
Photo: Valery Sharifulin\TASS via Getty Images
Some Russian athletes will have a very short trip to Rio de Janeiro. On the eve of the Olympics, the International Olympic Committee (IOC) has officially banned 118 athletes from the Games for their ties to the Kremlin's state-sponsored doping program. This isn't a total ban. About two-thirds of Russian athletes — exactly 271 — will compete.
An independent investigation commissioned by the World Anti-Doping Agency released findings in July that confirmed "beyond a reasonable doubt" and amassed new evidence on what whistle-blowers had already alleged: Russia's sports ministry, anti-doping body, and secret service ran — and tried to cover up — a mass-doping scheme.
Those advocating a total ban on Russia's participation in the Games are discouraged by the verdict, which many consider a feckless IOC response to a cheating scam coordinated through Moscow. Even before Thursday's ruling, the IOC had shifted responsibility to individual sports' governing bodies on the question of whether Russian athletes should be allowed to compete.
Thomas Bach, the president of the IOC, said a complete Russian ban would have led to "death and devastation." He explained: "The innocent athletes would have to be considered as collateral damage."
All Russian track-and-field athletes remain barred from competition, a decision that international sports federation made in June. Other sports with zero Russian players: weightlifting and rowing. Other competitions, like swimming, banned some athletes and not others. At least one sport, boxing, has a full slate of Russian participants.
Individual athletes can appeal the IOC's decision in last-minute challenges. It's unclear how successful those might be: According to the New York Times, the world sports' arbitration board has set up in Brazil, but the priority will likely be failed drug tests that happen in real time in Rio.