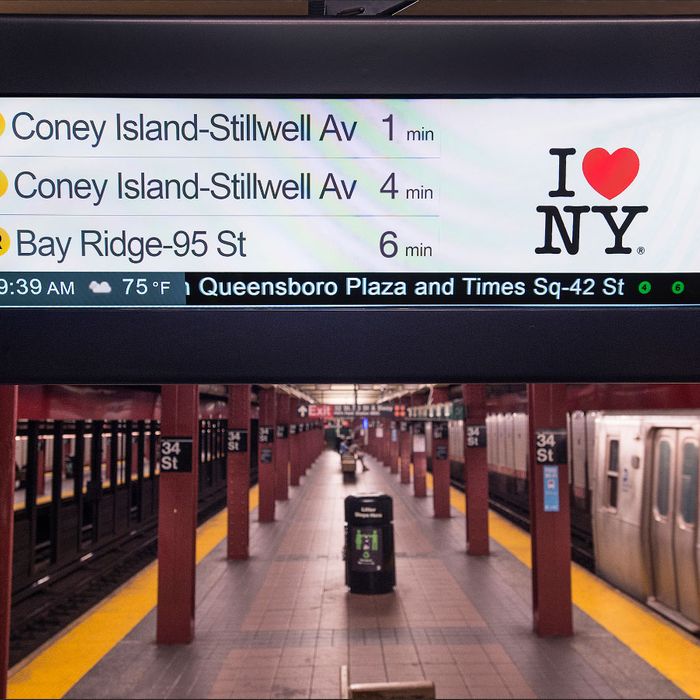 The MTA will roll out new countdown clocks to test in eight currently clockless N, Q, and R stations in Manhattan. The pilot phase will last 90 days, and from there the MTA will plan to install them along the lettered lines throughout the city, promising an end to the practice of leaning over the train platform and searching the dark abyss for the glow of an approaching train light.
There's no set timeline for putting the clocks in the 269 lettered stations, which, besides the L, never got the tech upgrades to allow for the LED clocks featured along that and the numbered lines. The new clocks' LCD screens are a style improvement, and they'll rely on Bluetooth that will connect to the first and last car of the train and generate the estimated arrival times. The first batch of the new clocks will be showing up on N, Q, and R platforms in Manhattan from 23rd Street through Lexington Avenue/59th Street.
Governor Andrew Cuomo — on a bit of an MTA-improvement streak of late — made the announcement Thursday, and added that a pilot program will outfit 131 buses with digital screens that include route information.

For those who regularly ride lettered lines, the clocks' eventual arrival could actually improve your commute just a bit. Knowing how long you have to wait for an F (or C or G) train tends to make riders feel like they have more control — which has the effect of making that wait slightly less annoying, delay or no delay.
Sources