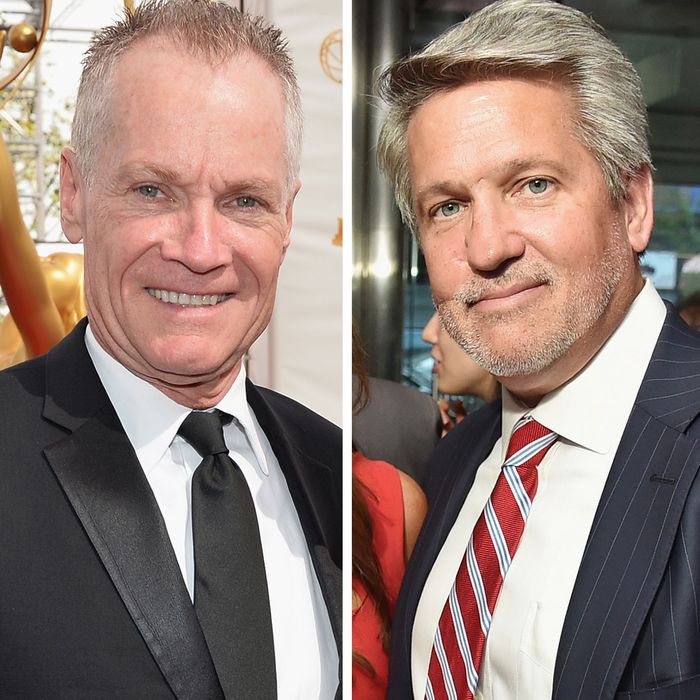 Jack Abernethy (L) and Bill Shine (R).
Photo: Getty Images
Roger Ailes may be out of Fox News, but he continues to cast a long shadow over the network. Today, 21st Century Fox executive chairman Rupert Murdoch promoted three Ailes loyalists to serve as the new leadership team atop the network. Murdoch, who will remain as executive chairman of Fox News, divided Ailes's job into two positions with titles of co-president. Fox Television Stations CEO Jack Abernethy will run the business side of the news network, while programming chief Bill Shine will oversee content and talent.
Abernethy worked with Ailes at CNBC in the mid-1990s and joined Fox News in 1996 as CFO. In 2005, after Ailes helped sideline Lachlan Murdoch, then News Corp's COO and heir apparent, by going around him and directly to Rupert on management, Abernethy took over Lachlan's portfolio of broadcast stations. He's known to be intensely loyal to Ailes.
Shine's promotion is perhaps the most surprising given that he's been the subject of intense media scrutiny since Gretchen Carlson filed a sexual-harassment lawsuit against Ailes on July 6. His elevation seems to signal that Rupert Murdoch, contrary to some speculation, intends to maintain Ailes's brand of programming. As I've reported previously, Shine enthusiastically promoted Ailes's right-wing agenda (he was formerly Sean Hannity's producer) and assisted in Ailes's PR campaigns (it was Shine whom Ailes assigned to rally Fox hosts to tweet negative comments about me while I researched my Ailes biography).
Considering Shine has been publicly associated with the sexual-harassment scandal at Fox, Murdoch's support for him is striking. I reported how Shine helped Ailes cover up his 20-year sexual harassment of former Fox booker Laurie Luhn (Shine denied knowing about the harassment). I also reported how Shine testified in settlement talks regarding former Fox correspondent Rudi Bakhtiar, who was fired after saying she was sexually harassed by Fox's Washington, D.C., bureau chief. Fox host Andrea Tantaros told me that in 2015 she reported to Shine that Ailes harassed her; she claims his response was "Don't fight this."
Fox's new executive vice-president for programming is Shine's deputy, Suzanne Scott, who also has worked in Ailes's orbit for many years. In the 1990s, she was a secretary at CNBC for Ailes's mentor Chet Collier and joined Ailes at Fox in 1996. Luhn told me that Scott booked a room for her at the Warwick hotel in 2007 so Ailes could monitor her. (Scott denied this.)
So far, the only casualty of the new lineup seems to be Fox News CFO Mark Kranz. The company's press release notes that he is "retiring." Like Shine, Kranz came under a lot of scrutiny for what he may have known about Ailes's alleged sexual harassment. In 2011, Kranz approved a $3.1 million payout to Luhn. A 21st Century Fox spokesperson told the Financial Times the parent company was not aware of the payout.
The other notable part of the release is that it does not mention Fox general counsel Dianne Brandi. Brandi negotiated multiple settlements over the years with women who claim they were sexually harassed. A Fox source said Brandi will continue with the company. Fox spokesperson Irena Briganti is listed on the press release as "media contact," which indicates she will remain at the network as well.
Today's announcement by no means finalizes the post-Ailes structure of Fox's leadership team. Notably, Murdoch did not announce a new CEO, which leaves open the possibility that 21CF could in the future bring in a formal replacement. It also raises the possibility of a family showdown between the 85-year-old mogul and his sons, James and Lachlan, over the long-term direction of Fox. When Ailes resigned, the Murdoch sons issued a statement that suggested they were taking the harassment allegations seriously. "We continue our commitment to maintaining a work environment based on trust and respect," they said. Names that have been thrown around in media circles as potential Ailes replacements include CBS president David Rhodes and former ABC president David Westin. Within Murdoch's empire, the New York Post's Jesse Angelo and former Sun editor Rebekah Brooks have been discussed. The choice of CEO will decide whose vision of the future of Fox wins.