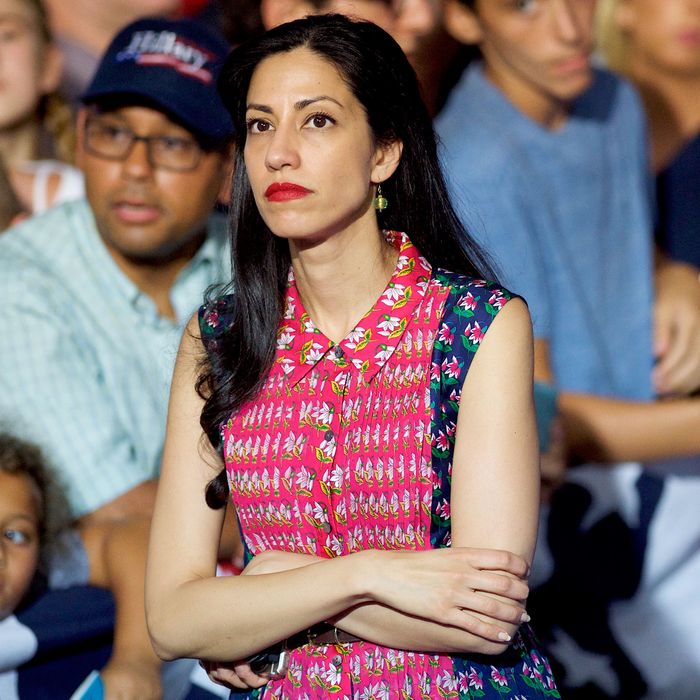 Huma Abedin.
Photo: Mark Makela/Getty Images
During her time at the State Department, Huma Abedin fielded more odd requests than the DJ at a Goth teen's bar mitzvah. On Monday, the conservative legal group Judicial Watch released a new batch of emails that show Clinton Foundation and Clinton Global Initiative associates pestering Abedin for little favors: If the crown prince of Bahrain wanted some face time with Madam Secretary, or a sports-entertainment executive needed a visa for a British soccer player (with an unspecified criminal background), or Bono demanded access to the international space station, it was, apparently, Huma Abedin's problem.
"Bono wants to do linkup with the international space station on every show during the tour this year … any ideas?" Bill Clinton aide Ben Schwerin, who helped establish the Clinton Foundation, wrote to Abedin in May 2009, in an email titled "Bono/NASA." (Bono has donated to the Clinton Global Initiative).
"Paul Martin's [popular English footballer] client … needs to get an expedited appointment at the US Embassy in London this week and we have hit some road blocks I am writing to ask for your help," sports-entertainment executive — and multimillion-dollar Clinton Foundation donor — Casey Wasserman wrote to the foundation's head Doug Band, in an email that was then forwarded to Abedin. "The Wolverhampton FC is coming to Las Vegas this Thursday for a 'celebration break' … contacted Senator Boxer's office in SF for help … They balked at the criminal charge and said they 'couldn't help.'"
Abedin replied that she was "nervous to get involved," but would "ask." Band then gave her permission to drop it.
The most significant request in Judicial Watch's latest release may be that of Crown Prince Salman of Bahrain, who secured a meeting with the secretary of State by reaching out to Band, who then reached out to Abedin.
"Cp of Bahrain in tomorrow to Friday[.] Asking to see her[.] Good friend of ours," Band wrote Abedin on July 23, 2009.
"He asked to see hrc thurs and fri thru normal channels," Abedin replied. "I asked and she said she doesn't want to commit to anything for thurs or fri until she knows how she will feel."
Although Clinton was reluctant to commit to the meeting when approached through the State Department, two days after Band's nudging, the secretary agreed to the meeting.
"Offering bahrain cp 10 tomorrow for mtg [with ] hrc[.] If u see him, let him know," Abedin wrote Band on July 25.
Salman established the Crown Prince's International Scholarship Program (CPISP), which was announced through the Clinton Global Initiative, in 2005.
The revelations come the same day a federal judge ordered the State Department to expedite its review of the roughly 15,000 emails that the FBI recovered from Clinton's private email server. In December 2014, Clinton's lawyers turned over what they claimed to be the entirety of the former secretary's "work-related" emails. However, FBI Director James Comey said last month that the agency had uncovered "several thousand work-related emails" that were not included in the batch of 30,000 that Clinton's lawyers turned over. The FBI found no evidence that these emails were deliberately withheld.
Judge James Boasberg ordered the State Department to process the first batch of new emails by September 22. While the court did not set a date by which all of the emails must be made public, a Justice Department lawyer suggested a "phased release" beginning on October 14, according to Bloomberg.
Thus far, the emails have produced nothing juicy enough to sustain a lasting political scandal. But if there is some damning message that Clinton deliberately withheld from the FBI — say, a Doug Band missive with the subject line "Bono wants to do false flag @ Benghazi…any ideas?" — it seems likely to come out before Election Day.
Meanwhile, Bill and Chelsea Clinton announced plans to massively scale back their family foundation's activities should Hillary become president this November. Last week, the foundation announced that it would stop accepting donations from foreign governments and corporations, a move that some saw as inadequate — others, as a summer sales event for would-be Clinton cronies.
But these new plans appear more substantial, and include shuttering the Clinton Global Initiative.
*An earlier version of this post incorrectly stated that the Crown Prince's International Scholarship Program donated $32 million to the Clinton Global Initiative. The CPISP was announced through CGI, but no donations were made.