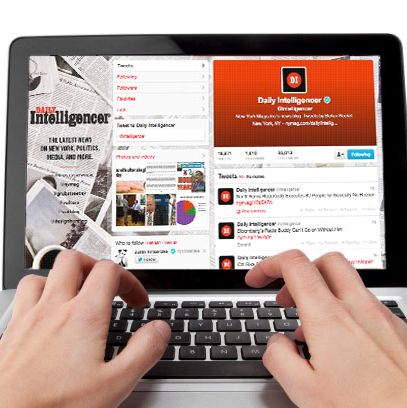 Welcome back to the New York Magazine Competition. On alternate Mondays, we lay out a challenge and offer sample responses. Enter in the comments section, or on Twitter with the hashtag we've provided, and the editors will select a winner. Criteria are highly subjective, but heavily retweeted and favorited posts will have an advantage. The prize is a year's subscription to New York in print or a two-year subscription to the iPad edition (winner's choice). Full rules are here.
COMPETITION NO. 76: "I'M NOT A POLITICIAN." Please name a potential presidential candidate who comes from a field other than politics, and offer a slogan or justification for his or her run. For example:
KRIS JENNER: Because I really don't have any secrets left.

PETER THIEL: Bad press? I can take it.

MARIO BATALI: Make America Grate Again!
Enter on Twitter with the hashtag #nonpoliticians, or in the comments thread below, by September 1.
RESULTS OF COMPETITION NO. 75, "WHAT I SHOULD HAVE SAID/WHAT I SAID," in which you were to contribute a pair of quotes in the above format.
HONORABLE MENTION TO:
1. "I'm running for re-election and I'm afraid I'll lose."
2. "I've been a Republican all my life. The nominee has put me in an untenable position. He's too unstable to be president."
—j_son
1. "Let me write you a check …"
2. "Let's keep looking … $200,000 for a brownstone? All the way out in Brooklyn?
—3North

1. "I'm innocent of all charges."
2. "Killed them all, of course."
—hoipolloi
1. "That's wonderful."
2. "You're pregnant again?"
—lessadoabouteverything
1. "That's too much lasagna."
2. "Veni, vidi, vici."
—clippityclop
1. "In 1776."
2. "Fourscore and seven years ago."
—kaboomm
1. "Oh god, Oh god, Oh god!"
2. "YEAH, JEETS!"
—RightyTightyWhitey
1. "Polo!"
2. "Rubio!"
—@DanielGalef
1. "Not guilty, Your Honor."
2. "I shot a man in Reno just to watch him die."
—HudsonRiver
1. "What an adorable baby!"
2. "Oh my gosh! Your baby is the spitting image of Ted Cruz!"
—gianna13
1. "Many resumes of qualified women."
2. "Binders full of women."
—rbison
1."I can't wait to spend two weeks alone with you in paradise."
2."Why don't we see if your friend Kimberly will take a break from modeling and join us?"
— BKoplow
1. "I will keep saying crazy things just to see how long I can get away with it."
2. "I was being sarcastic."
—BobKopac
1. "Geez, I really thought my Genghis Khan entry would've at last made me a winner but just making honorable mentions is so great."
2. "I WANT TO WIN I WANT TO WIN I WANT TO WIN!"
—rmtmiller
1. "Just waiting for the chocolate to set on my ice-cream cone."
2. "I like to wait till it gets hard before I lick it."
—‏@CatherineVodrey
1. "My name is Yetta Telebenda."
2. "My name is Muffie Quincey Pomeroy."
—YettaTelebenda
1. "Can't do it."
2. "Mi casa, su casa."
—ggreg
AND THE WINNER IS:
1. "We waz drunk and stupid."
2. "We were robbed at gunpoint."
—rmtmiller