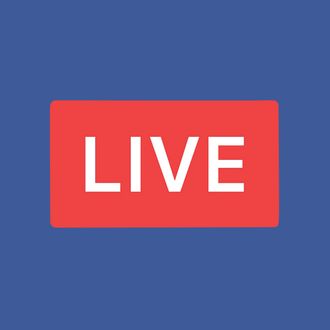 Over the weekend, New York Times public editor Liz Spayd articulated a point that many have realized but few are willing to admit: Those Facebook Live videos that Facebook is paying media companies to create kinda, well, suck.
You've almost certainly encountered "Facebook Live" — livestreamed videos filmed from users' smartphones — in your Facebook feed sometime during the last several months, as the company is aggressively pushing the new feature on users. (The hope is that Live can reverse the downward trend of users sharing original, personal content.) What does "aggressively" mean? Well, Facebook currently has deals with dozens of large publishers — the Times, BuzzFeed, and Gawker Media among them — and is paying them to produce livestreams on Facebook. In other words, it's spending millions of dollars to brute-force live video into popularity and ubiquity.
One problem with Live videos is that they're the antithesis of the engaging types of Facebook video that tend to be widely shared — the videos with time-lapse cooking, text overlays, and stock music. Live is considerably rougher around the edges and often unrehearsed; it tends to require sound to be at all engaging; and for the first several months it could only be filmed on low-quality smartphone cameras.
Or, as Spayd writes: "After watching countless hours of live video in the past few weeks, I have hit upon many that are either plagued by technical malfunctions, feel contrived, drone on too long, ignore audience questions or are simply boring, by I imagine most anyone's standards."
In the background of Spayd's specific complaint is a tension common to news organizations, which receive financial compensation from Facebook for producing these live videos and experimenting with the format, but in doing so, also bolster Facebook's already outsized power in the attention economy.
Because of these arrangements, publishers like the Times are essentially being thrown into the deep end of the pool. They have to produce a lot of live video on a regular basis, without having really examined what formats work best. Generally speaking, those formats are on-the-ground instances of breaking news, and slow burns that build to a climax; not two people sitting around awkwardly talking to each other.
Formats aside, Spayd writes that the Times' efforts have been plagued with technical issues, some of which might be on their end, some of which might be on Facebook's. The service only opened up its Live API to sources besides its mobile app this past spring.
Spayd's criticisms of the the paper's efforts are one more indication that, as we've said before, Facebook's conception of live video and its actual usefulness are divergent, and scenarios in which live video is useful are often tough to replicate. That places organizations like the Times, which are producing around 120 videos each month, in a tough spot.