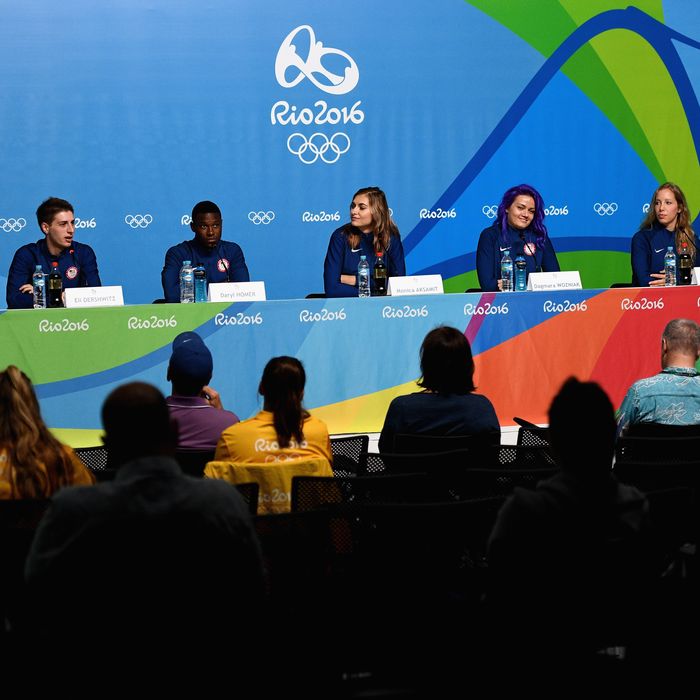 American Olympic fencers in Rio.
Photo: David Ramos/2016 Getty Images
Daryl Homer went to high school in New York City, and his classmates knew he fenced. But some apparently didn't know quite how talented he was. Homer says one of his friends told him, "You always talked about how good you were at all these sports, but you weren't that good at them." Now, his friend said, "It's pretty crazy."
Crazy because Homer, 26, is representing the United States in men's sabre fencing at the Olympics. The native New Yorker — Bronx-raised, St. John's grad, current Harlem resident — has a lot of local company in Brazil. The U.S. fencing team is dominated by athletes who are training or have trained in New York's fencing clubs. At least 11 athletes — 3 men, and 8 women — out of 17 on Rio's U.S. team trained at one of the city's clubs ahead of the Games.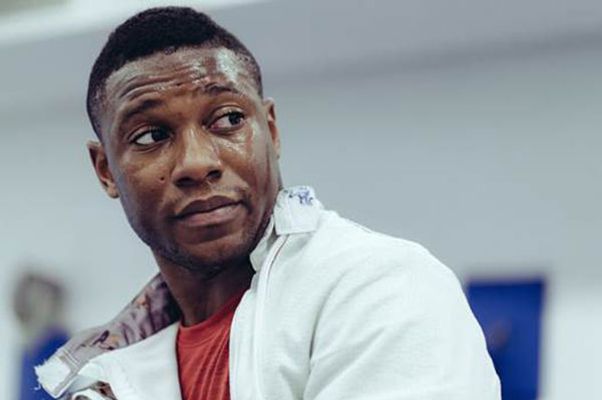 Fencing is really three separate competitions: foil (lighter weapon, with the torso as the target); épée (whole body is the target); and sabre (aiming above the waist with the entire weapon. It's the most like "Zorro" sword-fighting, says Homer). A fencer wins a point for hitting his or her competitor in the target area. The gear is outfitted with sensors that set off a light to confirm the hit. Usually competitors spar for three-minute intervals, or "bouts." The first person to 15 points wins. Competitions in the Olympics are one-and-done. "Kind of cutthroat," says U.S. men's foil fencer Miles Chamley-Watson.
High expectations followed America's entire fencing team to Rio. Homer, who competes Wednesday, will be vying to be the first-ever American man to win a gold medal in men's sabre. He's ranked No. 10 in the world, and took home a silver medal in men's sabre in the World Championships in 2015. "Most of the hard work is out of the way," Homer said as he was preparing to head to Rio. "Just fine-tuning a couple of things and [getting] mentally ready."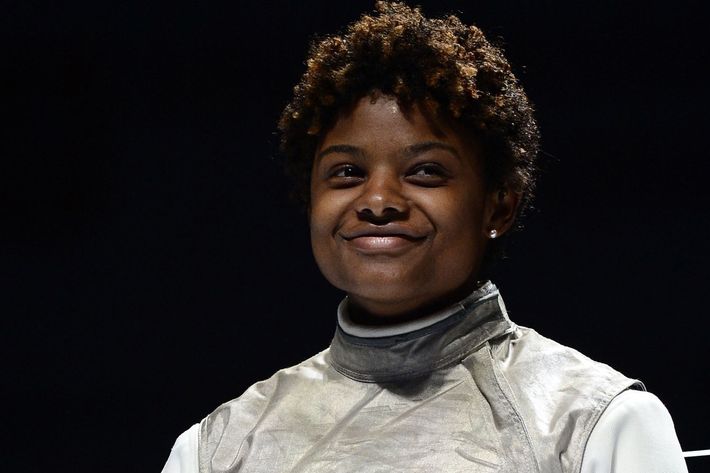 Nzingha Prescod, a Brooklynite appearing in her second Olympics, has already made history. Last year, she became the first African-American woman (and third U.S. woman) to win an individual medal — a bronze — at fencing's Senior World Championships. She stood a good chance of medaling in the individual foil competition in Rio, but was knocked out of single-elimination competition with a loss on Wednesday.
The United States has already claimed one medal in fencing in Rio. Alexander Massialas, who's from California, won a silver medal in the men's individual foil competition — the first U.S. man to win a silver medal in the individual foil competition since 1932.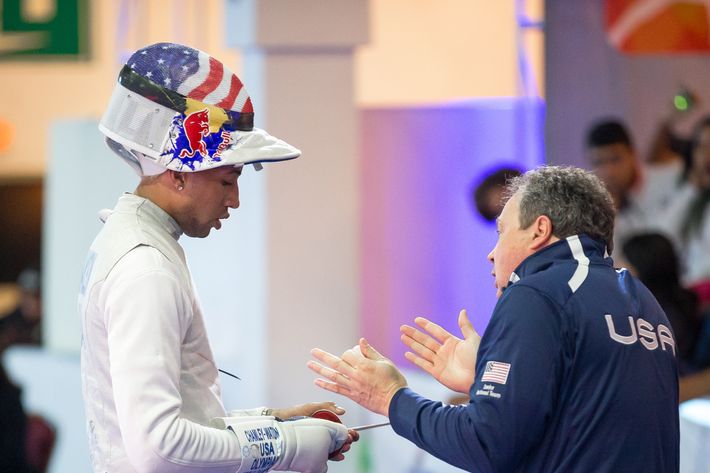 Chamley-Watson, who's a former World Champion and previous world No. 1, lost a close match in that individual competition to a Russian competitor (whom Massialas later defeated on his way to the silver). Chamley-Watson, Massialas, and three-time Olympian Gerek Meinhardt, also from California, will try to win the first U.S. men's team foil medal in more than 80 years. Their first bout: a strong Egyptian team that includes a 2012 individual silver-medal winner.
America has two other chances at medaling, both in team competitions. The women's sabre team competes this Saturday. That team of three includes Ibtihaj Muhammad, a New Jersey native who commutes into NYC to train. She was eliminated from her individual contest, but still hit a milestone: A Muslim American, she became the first U.S. Olympic athlete to compete wearing a hijab. (Muhammad made it to the round of 16 in the individual competition, but was felled by French fencer Cécilia Berder.) Muhammad will battle with fellow Jersey native Dagmara Wozniak and America's most accomplished fencer, Oregonian Mariel Zagunis, a two-time gold medalist.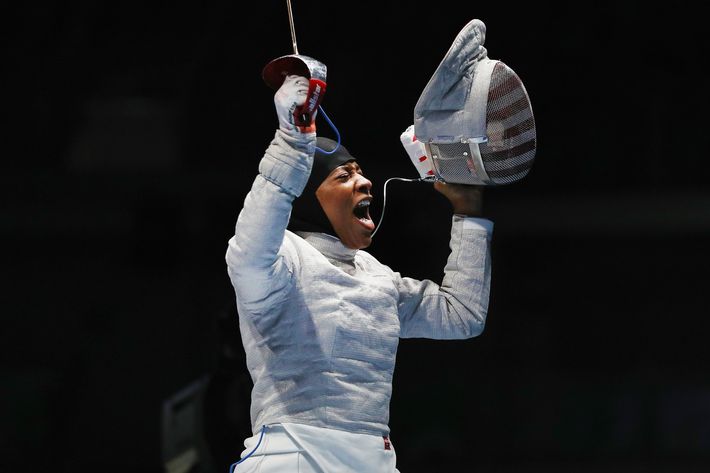 America's women's épée team won a bronze in London, and two of its 2012 members, Texans Kelly and Courtney Hurley, are returning to try for a repeat. They'll challenge — along with D.C.'s Katharine Holmes — Romania in the quarterfinal duel Thursday.
Though its athletes hail from different parts of the country, the entire U.S. women's épée team — the Hurleys, Holmes, and alternate Katarzyna Trzopek — fence for the New York Athletic Club. Jason Pryor, a men's épée dueler who lost his competition Tuesday, moved to Queens ahead of the Games and also sparred at NYAC. Rosters are similarly loaded in the city's other clubs. Kornel Udvarhelyi, a coach at Fencers Club, says a fencer competes for his or her respective club, but will often train or duel in "rival" spots. Homer's current club, Manhattan Fencing Center, near Times Square, also boasts fencers Wozniak and women's team sabre alternate, Monica Aksamit. Homer first picked up the sport at the Peter Westbrook Foundation, a nonprofit in Harlem founded by one of the most famous U.S. fencers, Peter Westbrook. That club produced two more Olympians: Prescod and Muhammad. Chamley-Watson trains at New York Fencers Club on West 28th Street, the oldest continuous fencing club in the Western Hemisphere.
This isn't a new trend: The city is America's unofficial fencing capital. Andy Shaw, the historian who runs the Museum of American Fencing, estimates that about 85 percent of Olympians (and some of its most famous medal-winners) since the Games began have come out of New York clubs. European immigrants settling in the New York area helped establish the sport. New York's first fencing club — and possibly the country's — opened in 1850, and its coaches were some of the first to seriously train women. Dr. Graeme Hammond helped found the Amateur Fencing League of America in 1891 in New York; the fencing Olympian (1912) later became president of New York Athletic Club.
Udvarhelyi says New York's talent self-perpetuates. Many of the New York clubs offer scholarships and other nonprofit programs that keep bringing local newcomers to the sport. Fencers who succeed on the collegiate level and aspire to keep competing often can't find adequate competition in local clubs — so they head to the Big Apple.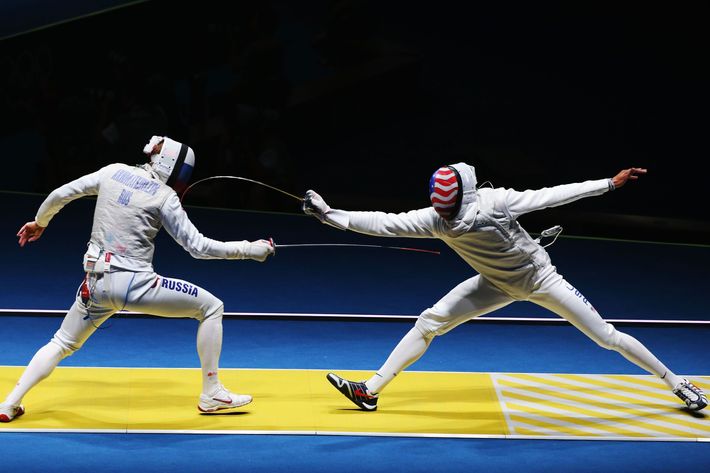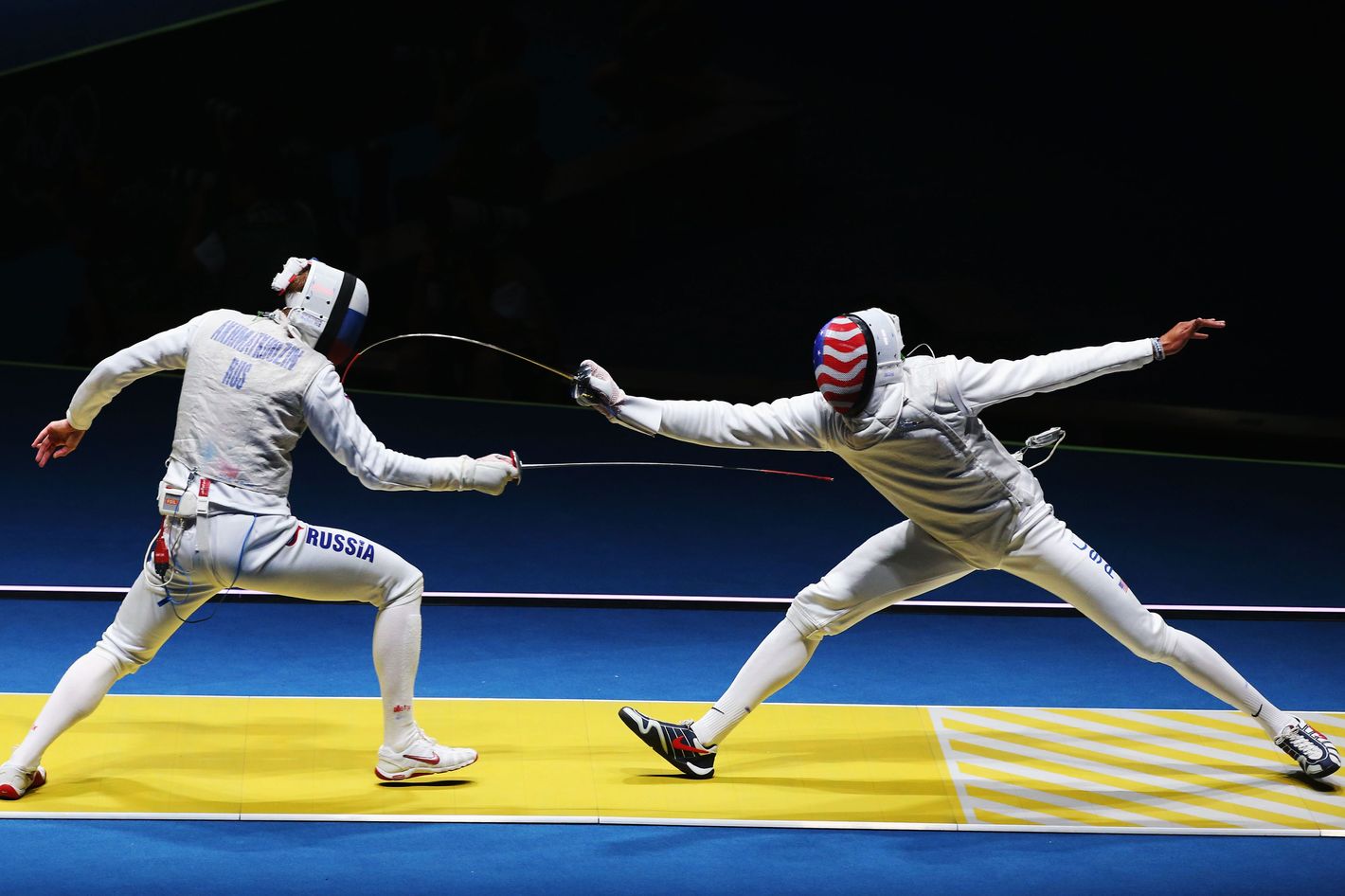 New York's slate of talented fencers might be the sport's best PR. Chamley-Watson says he feels a responsibility to promote the sport. "I think it's great that I'm getting a lot of attention," he says, "but ultimately it's the younger kids coming below me."
Westbrook, who went to the Olympics six times and won the bronze medal in 1984, has watched his club grow since he started the nonprofit fencing program in 1991. Westbrook, who wanted to help low-income kids, says his program has about 150 students training there every week, and a waiting list of more than a hundred people trying to get into the program. His efforts have been largely responsible for the remarkable diversity among elite American fencers. "We've grown into this type of success," Westbrook says. "It wasn't the same program eight or nine years [ago], and it won't be the same program in five years."
"The profile of the sport is growing," Homer says. "I don't think it's a nerdy sport anymore. A lot of people are starting to consider it cool. That's something we hope to push forward."