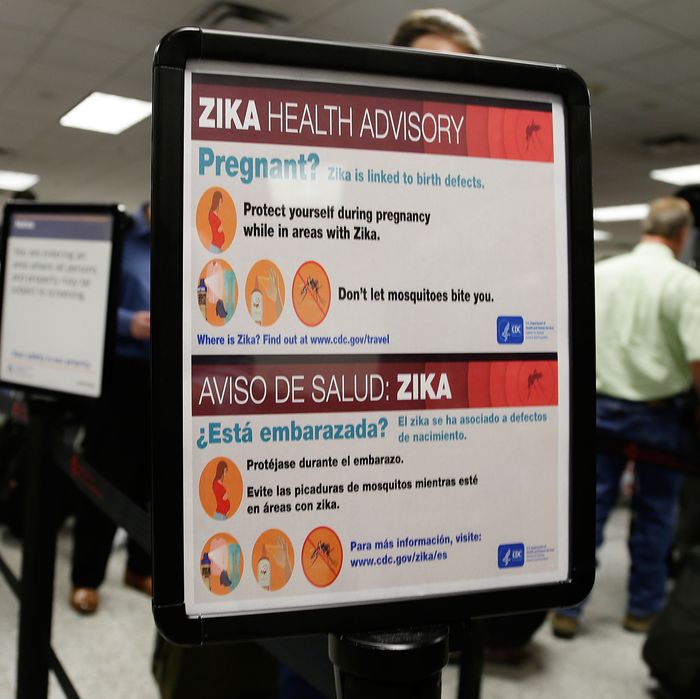 A Zika virus sign is seen at Hartsfield–Jackson Atlanta International Airport.
Photo: Mike Stewart/AP
A "handful of cases" of Zika virus reported in Miami Beach were probably transmitted by local mosquitoes, the New York Times reports, citing an anonymous health official.
The first locally transmitted cases of Zika in the U.S. were reported late last month in four Miami-area residents. At the time, it was believed that the mosquitoes in question were contained to a small area north of downtown Miami, but the Times' source says the new cluster could lead officials to issue a travel advisory urging pregnant women to avoid Miami Beach or Miami-Dade County entirely.
There have been more than than 1,650 documented cases of Zika in the U.S., but prior to these outbreaks in Florida, all cases had been linked to travel to Zika-affected countries in Latin America, or were sexually transmitted. The Centers for Disease Control and Prevention now believe Zika can remain active in men's semen as long as six months after infection, and are warning couples seeking to conceive to use condoms for six months following symptoms of Zika or a positive test.
Details about the location of the new cluster of cases and any official advisory may be released as soon as Friday, the Times adds. A broad travel warning would not mean that health officials believe the virus is spreading rapidly, but rather would be the simplest way of encouraging people to avoid areas where it might appear next.
Florida officials did not confirm the report from the Times' anonymous source, saying that no new areas of local transmission had been identified, but that there were "multiple cases" being investigated.