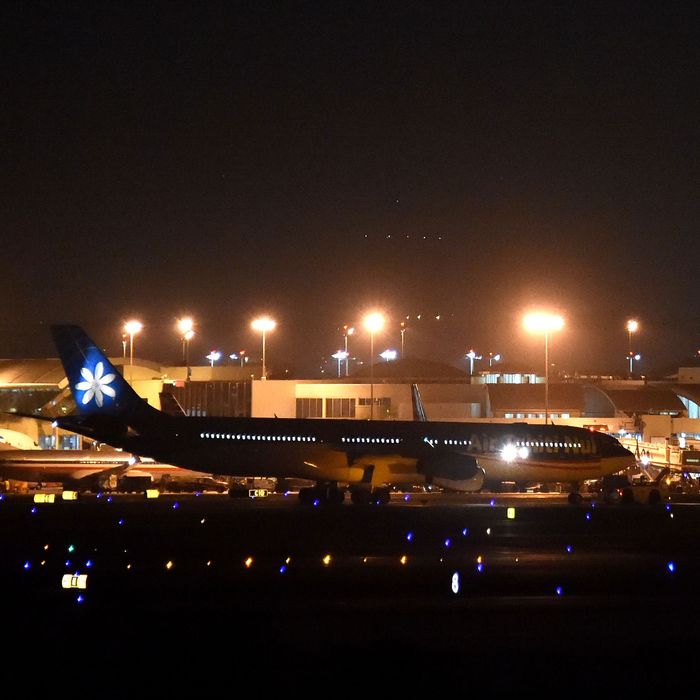 LAX.
Photo: ROBYN BECK/AFP/Getty Images
For the second time in two weeks, Americans at an airport heard loud noises and decided they were surrounded by gunmen trying to kill them.
Fourteen days after a crowd of passengers cheering for Usain Bolt sparked stampedes at John F. Kennedy Airport, unspecified "noises" inspired multiple reports of gunfire at Los Angeles International Airport (LAX), causing terrified travelers to flee onto the tarmac. By the time the panic was over, at least 23 flights had been diverted and one man in a Zorro costume had been detained.
At around 8:45 p.m. local time, law enforcement received a series of 911 calls reporting gunfire in three different terminals of LAX, NBC News reports. Minutes later, people were pouring out of Terminal 4 and onto the tarmac as security shouted "Run!" according to NBC's Lester Holt.
But after sweeping the airport twice, police concluded that no shots had been fired.
At roughly the same time the panic commenced, police detained a man in a Zorro costume. Whether or not the man's festive travelwear played a part in triggering the scare remains unknown.
The panic came three years after an actual shooting at LAX, which claimed the life of a Transportation Security Administration officer.
Considering how pervasive mass murders have been on our television screens and social-media feeds this past year, it makes sense that Americans would be on edge. Still, stampedes are themselves profoundly dangerous phenomena. So, we should all probably stick to the rule, "If you see something, say something," rather than, "If you hear something, assume you're about to die."