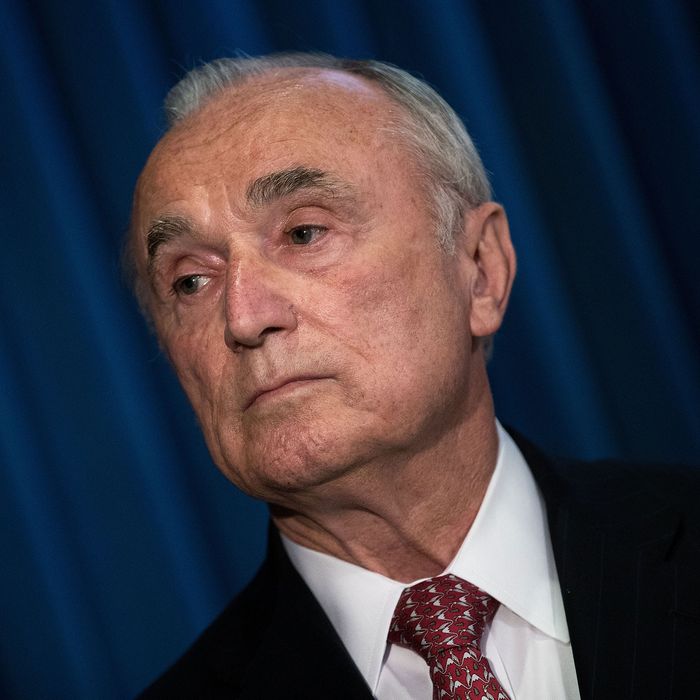 Bill Bratton.
Photo: Drew Angerer/Getty Images
NYPD commissioner Bill Bratton will resign from his post in September, the New York Times reports. Bratton stepped in as the city's police commissioner for the second time when Mayor Bill de Blasio took office in 2014; he had served in the role a decade earlier, from 1994 to 1996, during the first term of Rudolph Giuliani. Bratton also led police forces in L.A. and Boston, where he got his start as a cop in the 1970s.
Bratton told the New York Times last month that he would not serve past 2017, and he had previously told reporters that he would not stay on for a potential second term under de Blasio. Bratton's resignation comes a day after protesters called for his ouster as police commissioner in front of City Hall. The commissioner, who has presided over near-record crime lows in New York, is also tied to the controversial "broken windows" policing that many activists challenge as discriminatory to minority and poor communities.
Bratton is reportedly taking a job in the private sector after more than 40 years in public service. James P. O'Neill, the current chief of department, is slated to step in and replace Bratton.
Mayor de Blasio and top NYPD brass made the formal announcement Tuesday afternoon. De Blasio lauded Bratton's service. "I don't think anyone could have imagined a more productive 31 months for the NYPD," he said Tuesday.
De Blasio added that the NYPD had found "the perfect person" to succeed Bratton in Chief James P. O'Neill, who will take over in September. Carlos Gomez, now chief of patrol, will step into O'Neill's role as chief of department. First Deputy Commissioner Benjamin Tucker will retain his position, a signal that top cops support the NYPD leadership shuffle.
Bratton thanked the NYPD and civilians for the "achievements" under his tenure. But the celebratory mood took on a different tone outside the walls of City Hall, where protesters heckled the police chief as he left his press conference, singing, "Nah nah nah nah, hey hey hey, good-bye."
This post has been updated throughout.