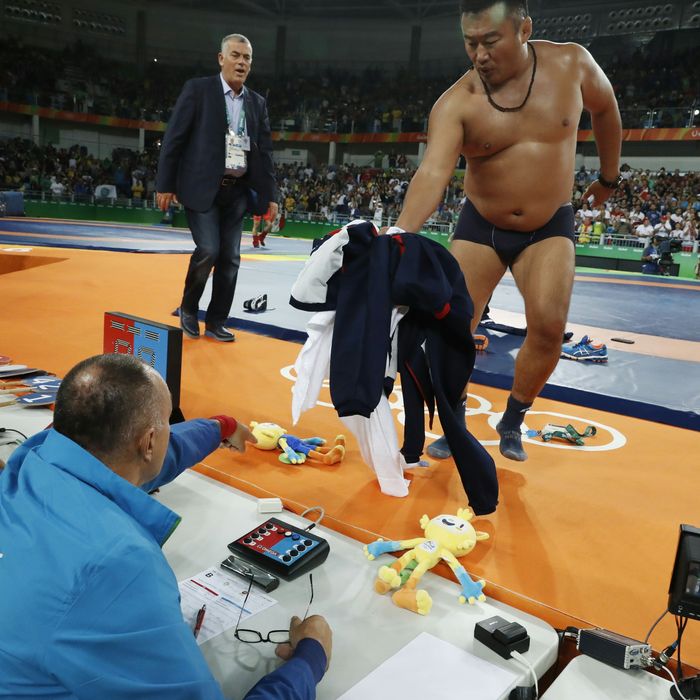 Somehow, the judges weren't swayed by this.
Photo: Jack Guez/AFP/Getty Images
Just before the closing ceremony in Rio, one of the more obscure corners of the Olympics provided what was one of this year's strangest, and most heart-wrenching scenes from the games.
As Olympic moments go, this one had it all: exaltation, tears, rage, accusations of cheating, a body slam, some old-fashioned shoe-throwing, and a coach stripping down to his skivvies. All in all, a dramatic day over at the bronze-medal men's freestyle 65-kilogram wrestling match.
You really should watch the footage yourself, (starting at 1:32 in the NBCOlympics.com livestream), as the announcers' growing bafflement really makes the whole thing that much more special. But here's what happened.
Two wrestlers, Mongolian Mandakhnaran Ganzorig and Uzbek Ikhtiyor Navruzov, battle it out for bronze in what is turns out to be a closely fought match. Just seconds before the bout ends, the judge awards Ganzorig a point, breaking what had been a 6-6 tie and effectively giving Mongolia what would have been its third medal in Rio. Obviously this is a major setback for Uzbekistan's Ikhtiyor Navruzov, whose coach is so upset that he actually rushes onto the mat, a move that never worked in children's soccer and doesn't work here.
With only a few seconds left in the match, the wrestlers stop wrestling and get down to reacting: Ganzorig raises his hands in a defiant pose of triumph, Navruzov raises his in a futile gesture of disgust. As it turns out, both gestures were premature. In the last moment, a judge awards Navruzov a penalty point — Ganzorig had stopped engaging in the last seconds of the fight, apparently — tying the score at 7-7.
Just like NBC, we won't bore you with the minutia of scoring, but in wrestling the last wrestler to receive a point carries the day, so it is not really a tie at all but a victory for Navruzov — who is now screaming. Then things get crazy.
Navruzov embraces his coach, who body-slams him in celebration, while Ganzorig falls to his knees writhing, his face buried in his hands. This is when the Mongolian coaches decide to escalate.
The coaches yell "why him!?" while one rushes the mat, throws aside his jacket, and "with a mighty 'No!' … angrily removes his shirt." Next, he removes his shoes, throwing one of them in the direction of the judges.
Initially, another coach from Team Mongolia tries to restrain his colleague, but around the time of the shoe-throwing, he has a change of heart and begins stripping in solidarity, getting all the way down to his underwear before depositing his pile of clothes on the judges table.

This is where the prudish announcers turn against the Mongolian contingent: "This is the Olympic Games, gentlemen," "leave immediately," etc. But the Brazilian crowd is decidedly on their side, chanting "Mongolia" throughout.
The coaches refuse to leave the mat, even as the judges award Navruzov another penalty point and declare him the victor.
Now one coach is topless, gesticulating wildly with his only shoe, and the other refuses to budge, defiant in his tight black underwear. Finally, Ganzorig the wrestler — still sobbing — joins his coaches and takes off his shirt. The coach with the shoe throws it at Navruzov and his coach; as they make their victory lap, he then collapses on the mat.
At least they still have their dignity.