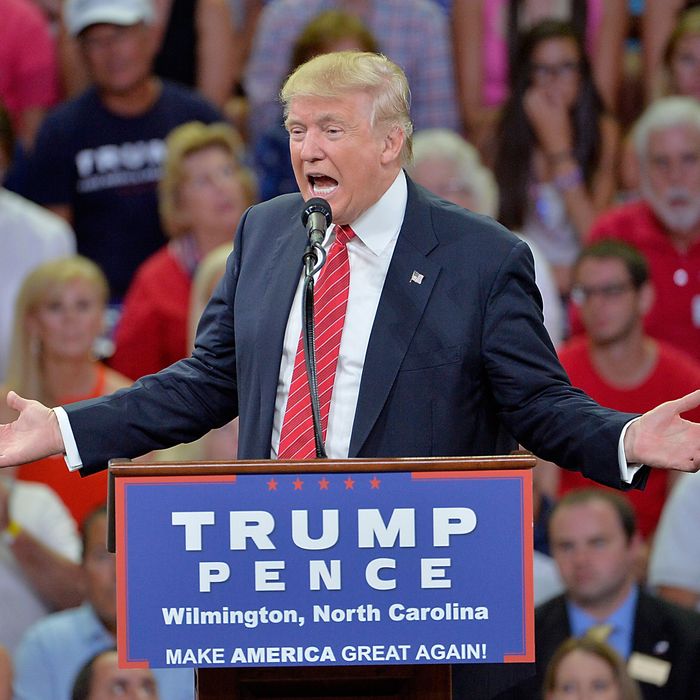 You're fired.
Photo: Sara D. Davis/Getty Images
Nearly one-fifth of registered Republicans wish they hadn't invited Donald Trump to this party and are praying he'll just leave now, before embarrassing them further.
In a Reuters/Ipsos poll released Wednesday, 19 percent of GOP voters say they want Trump to drop out of the presidential race, while another 10 percent say they don't know whether or not their standard-bearer should take the unprecedented step of ending his campaign four months early. Among all registered voters, 44 percent would like Trump to go fire himself.
Until recently, the Republican rank and file has been (relatively) unified behind their party's nominee. While Trump has bitterly divided the GOP's intellectual class, an overwhelming majority of Republicans have wanted their party's leaders to give Trump their full support as of May. Granted, a significant number of GOP voters admitted that the tycoon wasn't their ideal choice, but that's a far cry from saying that Trump should forfeit his bid in August.
But following the Democrats' four-day-long anti-Trump infomercial — and the GOP nominee's various attempts to confirm all of that infomercial's most damning claims the week after — a growing portion of the Republican coalition no longer finds the authoritarian demagogue acceptable.
Specifically, Trump is struggling with the all-important "reasonable Republican women who still have their brains attached" demographic. Per the New York Times:
"For people like me, who are Republican but reasonable and still have our brains attached, it's hard to see Trump as a reasonable, sane Republican," said Dina Vela, a project manager in San Antonio who said she had always voted Republican and remained wary of Hillary Clinton. But to her own surprise, she has started visiting Mrs. Clinton's campaign website and plans to vote for

her.
According to polls conducted by the Times and CBS News, Trump's lead over Clinton among Republican women has dropped by 13 points since the two parties held their conventions. As of late July, Trump boasted the support of 72 percent of female GOPers. When Mitt Romney lost his bid for the presidency in 2012, he won 93 percent of such voters. If current polling holds up, Trump will be the first Republican in a generation to lose college-educated white women.
Then again, all of these polls were taken before Trump made a "joke" implying that Republican gun enthusiasts are insurrectionary assassins who will need to take out Hillary Clinton (and/or her Supreme Court nominees) should America elect the first female president in November.