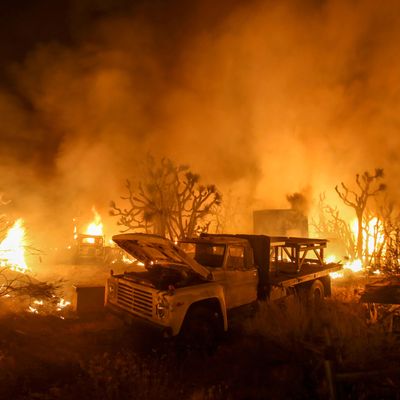 Flames burn structures and vehicles as the Blue Cut wildfire rages near Cajon Pass, north of San Bernardino, California on August 16, 2016.
Photo: Ringo Chiu/AFP/Getty Images
California's drought has turned parts of the state into a tinderbox, with parched land, high temperatures, and scant rain fueling brush fires this summer. Now San Bernardino County in Southern California is under siege from a rapidly burning blaze. The Blue Cut fire was first spotted Tuesday morning, at around 10:30 in Cajon Pass, between the San Bernardino and San Gabriel mountains and about 60 miles east of Los Angeles. The fire, which began in a five-acre swatch near Interstate 15, has grown and intensified. As of Thursday morning, the fierce inferno has swelled to more than 31, 000 acres.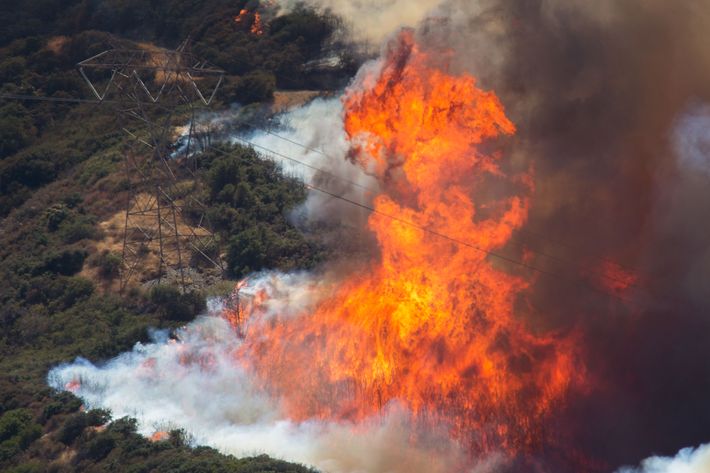 The blaze is now 4 percent contained, but it is still sweeping perilously close to communities — including Wrightwood, a ski-resort town with a population a little over 4,200 people. "It hit hard. It hit fast. It hit with an intensity that we haven't seen before," San Bernardino fire chief Mark Hartwig said about the fire. The flames have already swallowed some homes and structures in rural San Bernardino County, reports the Los Angeles Times, though the full extent of the damage is still unknown. "There will be a lot of families that come home to nothing," Hartwig said. "If there's a bright side … there are some homes that were saved."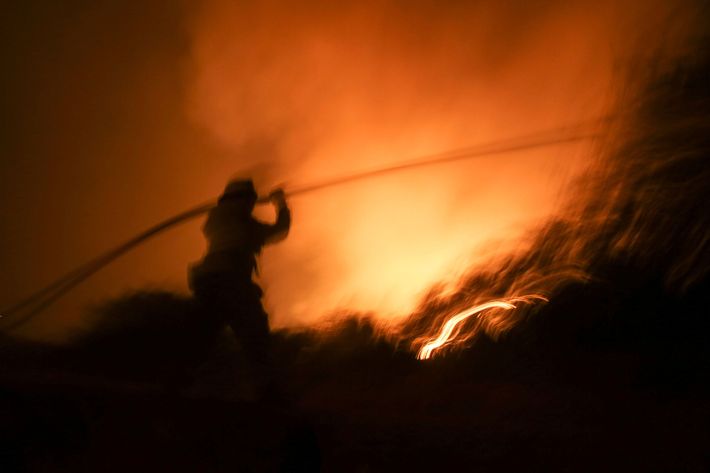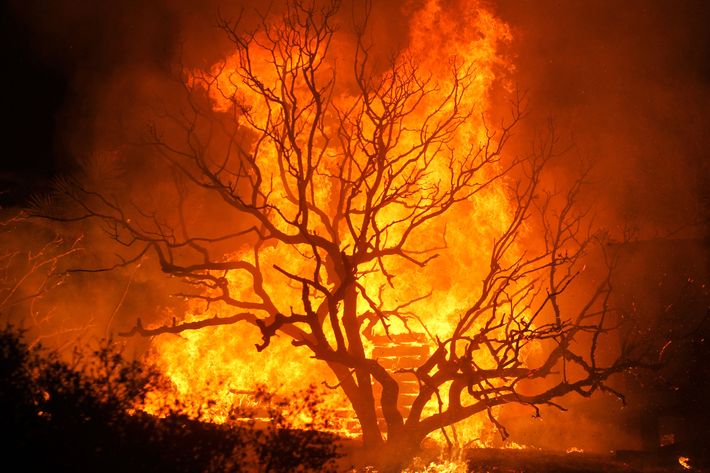 Officials went door-to-door, urging people in residential areas to get out. So far, more than 83,000 people have evacuated, some mandatorily, under threat of the fast-moving flames. Major thoroughfare Interstate 15 and other routes are starting to reopen after being shut down Wednesday. The smoke-filled air forced multiple school closures. "If it's lost, it's lost," Anthony Botello, who voluntarily left his home, told the Los Angeles Times, as he was hunkered down outside the evacuation center. "You got your life. It's only physical things."
More than 1,500 firefighters are now battling the blaze from the ground and the sky. Crews also must contend with trying and unpredictable conditions: The area will stay dry, with triple-digit temperatures and at least ten-mile-per-hour wind gusts. On Tuesday, six firefighters became entrapped by the fire. They reportedly survived by sheltering in place in a nearby structure. Two sustained minor injuries, but were treated, released, and returned to the front lines.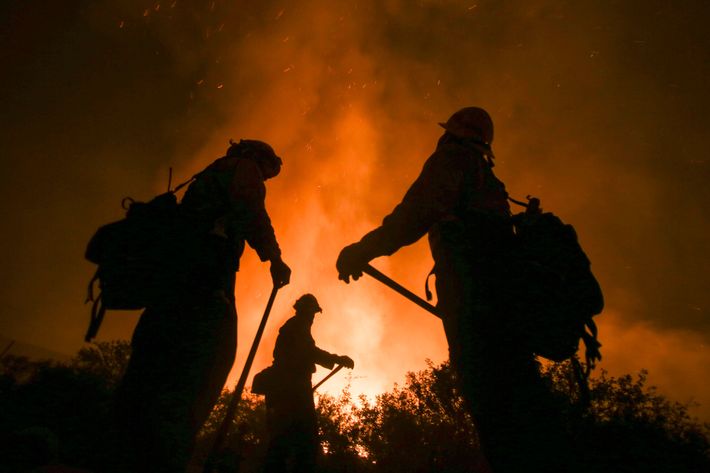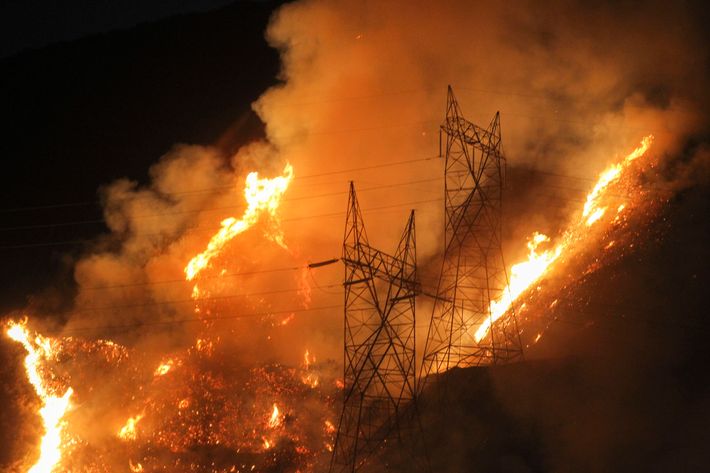 Winds blowing Tuesday apparently stirred up a "firenado" — a real phenomenon where winds whip flames or smoke and send them spiraling into the air.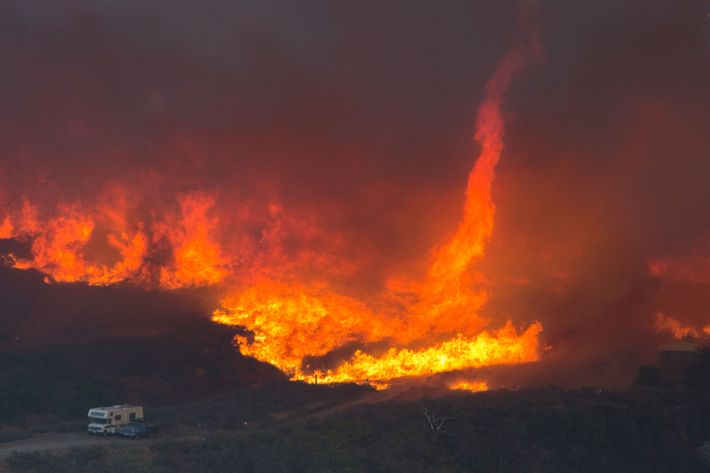 California governor Jerry Brown has declared a state of emergency. Two other wildfires are burning across the state, the Clayton Fire, in Northern California, and the Chimney Fire, in a resort area in San Luis Obispo County. The Chimney Fire began Saturday; it now stretches 8,300 acres, and fire crews have the flames about 30 percent contained. The Clayton Fire, about 100 miles north of San Francisco, is now 55 percent contained, but has charred more than 170 structures across 4,000 acres since Saturday. It was allegedly set by a serial arsonist, who was arrested Tuesday. The accused, 40-year-old Damin Anthony Pashilk, is suspected of setting at least 17 other fires, maybe more.
This post has been updated throughout.