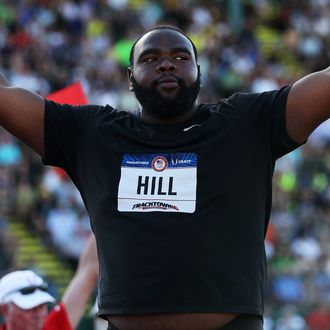 Photo: Patrick Smith/Getty Images
Today in actually good news from the Rio Olympics: Ellis Hill will be headed to Brazil to watch his son, Darren, compete on the track-and-field team thanks to a successful crowdfunding campaign.
Hill is an Uber driver in Philadelphia. This July, one of his passengers, Liz Willock, started chatting with him about his son during an hourlong Uber ride. When Willock heard Hill's son was competing, she asked him if he was going to go and watch. He told her it was just too expensive.
After hearing that, Willock, who NBC reports works for a "global concierge service," set up a GoFundMe account for Hill. It reached its goal of $7,500 in two days and the donations kept on coming. Willock is also arranging Hill's transportation while he's in Rio. "Outside of special things that have happened in my family, I think it'll be one of the most important things I've ever done in my life," Willock told NBC about helping Hill get to the games.
"I feel really grateful and overcome by the knowledge that there are good people out there," Hill told People. Uber is also giving Hill $250 for dinner at a restaurant in Rio and another $1,000 in ride credit to help him get around. Here's hoping for no surge pricing.