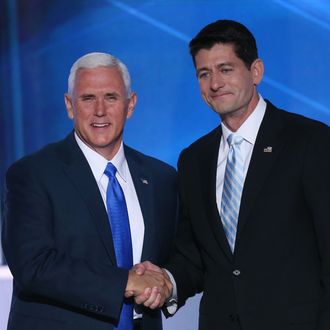 I'm so glad Mr. Trump said we can be friends.
Photo: Daniel Acker/Bloomberg via Getty Images
There have been lots of reports that Donald Trump is tearing the GOP apart, but if that were true, would the Republican nominee have allowed his running mate to endorse Paul Ryan?

To be clear, Trump himself remains "just not quite there yet," but on Wednesday, he did endorse the idea of Mike Pence endorsing the House speaker. Pence said in a phone interview with Fox News, "I strongly support Paul Ryan, strongly endorse his reelection." Then he made it official with not one but two attempts to start an #AwkwardRyanEndorsements meme:

Looks like Republican National Committee chair Reince Priebus's threat to send out a nice email really worked.