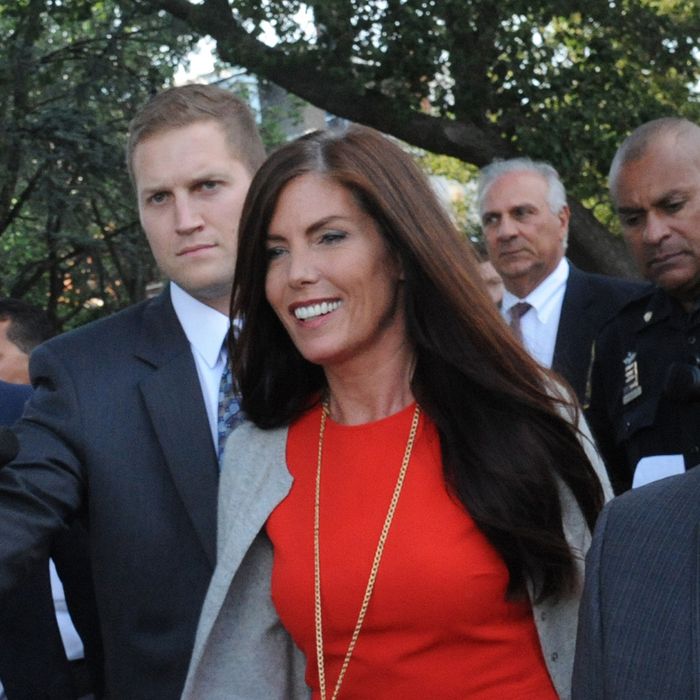 Kathleen Kane after a preliminary hearing in Norristown, Pennsylvania, on August 24, 2015.
Photo: Clem Murray/Philadelphia Inquirer/TNS via Getty Images
When she took office four years ago, Kathleen Kane, the first Democrat and first woman elected Pennsylvania attorney general, was thought to have a promising political career ahead of her. But, on Monday, that came to an end when a jury convicted her of all nine counts in a perjury and obstruction case. She faces up to seven years in prison for each of two felony perjury counts.
About 24 hours after the verdict, Kane announced her resignation, effective at the end of Wednesday. "I have been honored to serve the people of Pennsylvania and I wish them health and safety in all their days," she said in a statement.
Many of the state's elected officials, including Democratic governor Tim Wolf, had urged her to step down, and they welcomed Kane's decision. "What has transpired with Attorney General Kane is unfortunate," Governor Wolf said in a statement. "Her decision to resign is the right one, and will allow the people of Pennsylvania to finally move on from this situation." Kane has lost her law license over the charges and was not seeking reelection, but under Pennsylvania law she could have remained in as the appeals process played out.
It took jurors just four and a half hours to conclude that Kane leaked secret grand-jury documents to the press to discredit her rival, former state prosecutor Frank Fina. The case was part of a larger web of scandal and political rivalries that led to several state officials, including two state-supreme-court justices, losing their jobs.

Kane, who had never sought state office before, campaigned in 2012 promising to review the investigation of Jerry Sandusky, the Penn State football coach convicted of child sex abuse. While she did not find that politics played a role in that investigation, she did discover that former state prosecutor Frank Fina and other officials were exchanging mildly pornographic emails on state computers, and informed the press.

The Philadelphia Inquirer reports that Kane believed Fina was the source of a story the paper ran in 2014 about her decision to shut down an undercover sting, which Fina had started, that caught Philadelphia officials on tape accepting cash. (The sting was resurrected by the city's attorney general, and wound up bringing down five state officials for corruption.)

The jury concluded today that in an effort to get revenge on Fina, Kane orchestrated the leak of 2009 grand-jury documents that show Fina failed to prosecute local NAACP leader J. Whyatt Mondesire for misusing state money.

According to Politico, Kane's attorney acknowledged she wanted the story to get out, but blamed her chief deputy, Adrian King, for leaking the files to a Philadelphia Daily News reporter via political consultant Josh Morrow. The two men testified against Kane, saying that story was concocted to cover for Kane's abuse of power. Morrow, who was granted immunity, said he and Kane lied to a grand jury about the matter.

Kane is currently free on bail, and she's been ordered to turn over her passport. After the verdict was read, Judge Wendy Demchick-Alloy threatened to jail Kane if Kane took any action against those who testified against her. "There is to be absolutely no retaliation of any kind against any witness in this case, either by your own devices, from your own mouth or your hand, or directing anybody to do anything," she said.

Kane claims that the case against her is retaliation for her efforts to dismantle the state's "old-boys network," but the judge did not allow Kane's lawyers to discuss the pornographic-email scandal. The defense said Kane would appeal.
This post has been updated throughout.