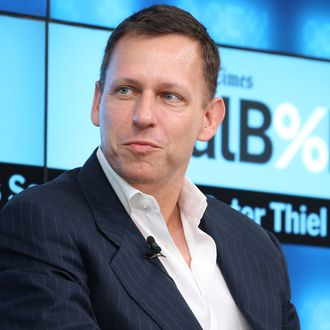 Photo: Neilson Barnard/Getty Images
On the eve of Gawker Media's sale to … somebody, the author of its bankruptcy, Facebook billionaire Peter Thiel, was graciously given op-ed space in the New York Times to lay out his case against the blog network. Thiel, who funded the Hulk Hogan lawsuit that brought Gawker to the point of sale, casts his intervention as just one good deed in a crusade against privacy violations. That a man who became superrich thanks to a timely investment in Facebook, and who is an investor in surveillance contractor Palantir, is arguing for greater privacy protections is about the least-striking contradiction in the whole op-ed.
Thiel's umbrage with Gawker dates back to 2007, when Owen Thomas, a writer for Gawker-owned site Valleywag, published a post called "Peter Thiel is totally gay, people." By Thiel's account, the post outed him, revealing his sexuality: "I had begun coming out to people I knew, and I planned to continue on my own terms. Instead, Gawker violated my privacy and cashed in on it."
Thomas disputed this last June when he looked back on the blog post, in the San Francisco Chronicle.
By then, friends and others in Thiel's circle had known he was gay for years. He was not in any kind of closet. I was aware that he had concerns about the idea of my writing a story on the subject, but those concerns, as far as I'd been able to determine, were purely professional, not personal — he was worried that it might place him at a disadvantage when raising money for a new Clarium Capital hedge fund in the Middle

East.
Since Thiel's involvement in the Gawker case came to light, it's led to hand-wringing about the possibility that billionaires like Thiel could bury adversaries in the media under expensive litigation by funding court cases that don't directly involve them. Thiel — who had no case against Gawker himself — funded Hulk Hogan's case against Gawker, the one in which a jury awarded Hogan $140 million and bankrupted the company, calling it "strategic deterrence" back in June.
"I will support him until his final victory — Gawker said it intends to appeal — and I would gladly support someone else in the same position," Thiel now writes. The final part of that sentence is a not-so-thinly-veiled threat to anyone who might report on deep-pocketed individuals like Thiel.
Thiel's argument that his litigation is in support of defending individual privacy from prying journalists falls apart when you consider a few things. Firstly, Thiel is a prominent investor in a number of Silicon Valley efforts to harvest personal information and undermine individual privacy, chief among them, as noted above, Facebook and secretive law-enforcement contractor Palantir. As Anil Dash points out, Facebook's recklessness when it comes to user privacy outed gay users to advertisers and earned the company two decades of federal supervision.
In addition, Gawker is now the subject of two other lawsuits likely funded by Thiel (the lawyer funded by Thiel in the Hogan suit, Charles Harder, is representing the plaintiffs in both cases, though nobody will confirm that Thiel is once again footing the bill). One concerns journalist Ashley Terrill, the other Shiva Ayyadurai, who claims to have invented email. Neither lawsuit is related to privacy; both concern defamation.
In his op-ed, Thiel does not explain why those lawsuits also target individual writers and editors at Gawker. The Hogan suit has nearly bankrupted A.J. Daulerio, who was reported last week to have only $1,500 left in his (frozen) checking account. The two other suits name former writer Sam Biddle and current executive editor John Cook.
If the indemnification clauses in those writers' contracts are nullified by the bankruptcy court, that leaves Biddle and Cook responsible for funding their own defense against Harder, and likely against Thiel's bottomless pockets — even though, again, neither suit has anything to do with the privacy protections Thiel claims to be so passionately protecting.
"It is ridiculous to claim that journalism requires indiscriminate access to private people's sex lives," Thiel writes, a misrepresentation of Gawker's legal defense strategy. That strategy had argued that because Hogan had repeatedly bragged about his sex life in public, the details of it would be of public interest. (Oddly enough, Thiel admits, "Since sensitive information can sometimes be publicly relevant, exercising judgment is always part of the journalist's profession.") Unsealed documents also indicate that Hogan filed the lawsuit as a defensive move to prevent records of his use of racial epithets from becoming public, not out of embarrassment.
"A free press is vital for public debate," Thiel writes while actively funding litigation that will certainly produce an industry-wide chilling effect. "It's not for me to draw the line," he admits, while drawing that line.
Perhaps the oddest part of Thiel's essay is during its endorsement of the Intimate Privacy Protection Act, a bill pending before Congress which "would make it illegal to distribute explicit private images, sometimes called revenge porn, without the consent of the people involved. Nicknamed the Gawker Bill, it would also provide criminal consequences for third parties who sought to profit from such material." Exactly who is calling it the Gawker Bill? As BuzzFeed reports, a spokesperson for its sponsor, Representative Jackie Speier, said, "I have no idea where 'the Gawker Bill' name comes from, but it's incorrect." It's mostly being called that among publications like the Daily Caller and Gateway Pundit, in the famously tolerant right-wing blogosphere.