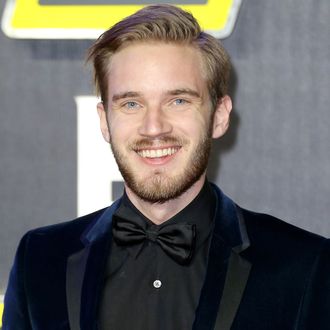 Popular YouTuber PewDiePie did not join ISIS.
Photo: Chris Jackson/Getty Images
The most popular YouTube celebrity, video-game streamer PewDiePie, had his Twitter account briefly suspended and unverified this week after false chatter circulated that he had joined the Islamic State.
"Me and @Jack_Septic_Eye have joined isis. Which is why we both got unverified," PewDiePie (real name: Felix Kjellberg) wrote shortly after retweeting a fake article about his pledging allegiance to the brutal caliphate sowing chaos across Syria and Iraq.
Recruiting PewDiePie would have been a huge coup for Abu Bakr al-Baghdadi. The influential gamer, who has more than 47 million YouTube subscribers, would have certainly given a serious boost to ISIS's social media operation, which heavily leans on the web to address followers, recruit new members, and spread propaganda.
But PewDiePie did not join ISIS. He joins an exclusive list of celebs falsely rumored to have joined ISIS. Other members include "Same Love" rapper Macklemore.