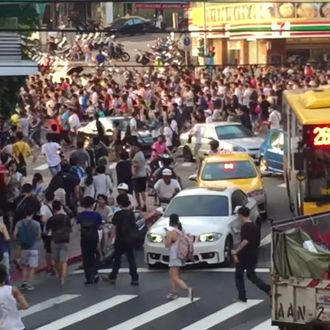 By the numbers, Pokémon Go is seeing a decline in daily active users. (Which is not terribly surprising as summer winds down and the app's initial buzz goes with it.) But that is apparently not the case in Taiwan, where people reportedly rushed through the streets over the weekend in an attempt to catch a Snorlax.
According to Taiwanese media, Tapei's Xinbeitou district has become a hotspot for thousands of people playing the game and chasing pocket monsters. (Please note: This clip, which originated on Facebook, has not been verified, so it's possible these folks were not after a Snorlax at all. But either way, watching hundreds of people run around with phones in hand is still terrifying.)
This isn't the first time the augmented-reality game has sent people running. Earlier this summer, a college campus was turned into the set of a zombie movie as dozens of student roamed the campus shouting "Squirtle!" in search of, well, you know. Besides, some guy already caught all of the Pokémon so it's time for everyone else to give up and go home.