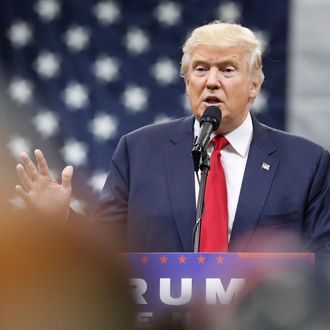 The kids do not love Donald Trump.
Photo: Jay Laprete/AFP/Getty Images
During the primaries we heard a lot about how poorly Hillary Clinton performed among young voters, but now she's actually doing fine … because she's matched up against Donald Trump, not Bernie Sanders.

Earlier in the day, a number of polls showed Clinton back in the lead, though it's unclear if that's just the typical post-convention "bounce," or a reflection of Trump's decision to spend the week attacking Republican leaders and a Gold Star family. New York's Ed Kilgore wrote:

Five national polls taken since the Democratic National Convention ended show Clinton ahead, with net swings in her favor from previous polls ranging from minus 2 (Economist/YouGov) to plus 12 (

CNN

/

ORC

). There's also a tracking poll from

LAT

/

USC

that had shown Trump still ahead coming out of the convention, but now shows Clinton with a small lead.

The new McClatchy-Marist survey is even worse for Trump. It shows Clinton leading him 48 percent to 33 percent in a poll of 1,132 adults conducted Monday through Wednesday. In a four-way matchup, Clinton has 45 percent, Trump has 31 percent, Libertarian Gary Johnson has 10 percent, and Green Party candidate Jill Stein has 6 percent. With the latest poll figured in, RealClearPolitics' polling average has Clinton with a seven-point lead, up from last week when Trump had a one-point lead.
But the worse news may be Trump's fourth place finish among voters ages 18-29:

Though social media and trendy headgear are two of the core elements of Trump's campaign, he's performed poorly with young people for months — but a major-party candidate polling in the single digits among a huge voting bloc is still notable. In 2012, Mitt Romney won 36 percent of the 18-29 vote compared to Obama's 60 percent, and in 2008, McCain had 32 percent to Obama's 66 percent. If Trump's dismal poll numbers among young people prove to be accurate, the GOP better hope that Millennials get really excited about Ivanka in the 2024 election.