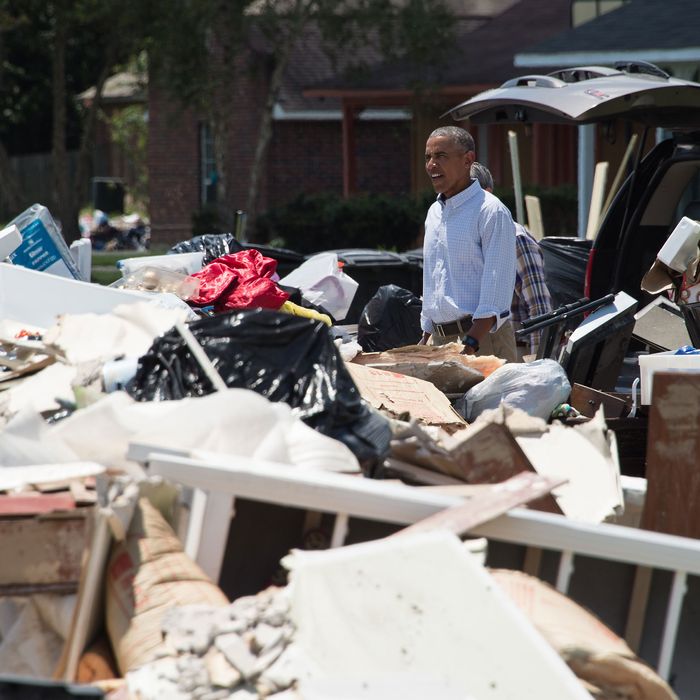 Obama tours a flood-affected area in Baton Rouge.
Photo: Nicholas Kamm/AFP/Getty Images
Air Force One touched down shortly before 1 p.m. local time on Tuesday in Baton Rouge, Louisiana, delivering President Obama to survey the devastation from last week's floods and give an update on the federal government's cleanup and relief efforts.
Once on the ground, the presidential motorcade navigated through streets piled with debris from flooded homes and businesses. The commander-in-chief met with residents one-on-one, taking stock of the destruction and shaking hands with volunteers and first responders.
Controversy preceded the president's Louisiana arrival, as some had criticized Obama for taking more than a week to visit the ravaged state where floodwaters killed at least 17 people and damaged more than 60,000 homes. The president had been on vacation in Martha's Vineyard as officials began taking stock of the destruction. Donald Trump, along with his running mate Mike Pence, visited Louisiana over the weekend to hand out supplies.
Obama pushed back against the criticism. "One of the benefits of being five months short of leaving here means I don't worry too much about politics," Obama told reporters while visiting a block of flooded-out homes in Zachary, Louisiana, one of the hardest-hit locations. "The second thing I have seen, historically, is that when disaster strikes, that's one of the few times where Washington tends not to get political. I guarantee you nobody on this block, none of those first responders, nobody gives a hoot whether you're Democrat or Republican."
He added: "What they care about is making sure they're getting the drywall out, getting the carpet out, there's not any mold building, they got some contractors in here and they start rebuilding as soon as possible. That's what they care about, and that's what I care about."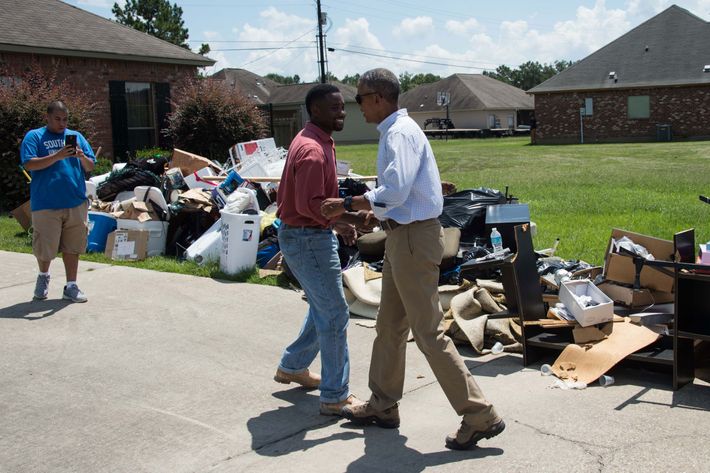 The president repeatedly lauded the federal government's response during his remarks, particularly the work of FEMA. His praise — coming, eerily enough, on the 11th anniversary of Hurricane Katrina's landfall — has, so far, been echoed among state and local officials on both sides of the aisle. Louisiana's Republican Lieutenant Governor Billy Nungesser, whom White House Press Secretary Josh Earnest described as a "noted Obama critic," said federal workers were doing an excellent job. "They've gotten good at it, and they actually do care," Nungesser said.
But federal aid likely won't be enough help all of the flood victims rebuild, Obama stressed during his visit. "Federal assistance alone is not going to be enough to make these lives whole again," the president said, "So I'm asking every American to do what you can to help get families and local businesses back on their feet."
Obama listed volunteer opportunities, and encouraged private donations. "They got a lot of work to do, and they shouldn't have to do it alone," he said.
After his brief address, Obama visited more washed-out homes and met with more victims of the flooding (though he was apparently refusing selfies). The president, before he departs, is expected to meet with the family of Alton Sterling, the 37-year-old black man who was shot and killed by police in July while selling records outside a convenience store. Sterling's death set off a string of protests in Baton Rouge and across the country. Obama will also sit down with relatives of the three Baton Rouge police officers who were gunned down by Gavin Long, a black nationalist ex-Marine, amid tensions following the Sterling protests.