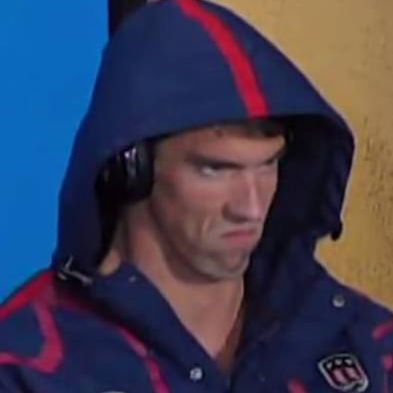 Over the past two weeks in Rio, we've watched as athletes from all over the world have come together for a truly noble cause: memes. Big memes. Small memes. Swimming memes. Running memes. I-don't-understand-this sport-but-I'm-too-embarrassed-to-say-anything memes. Meme memes.
To help you make sense of them all, Select All has rounded up the cream of the crop from these Olympic Games and devised a very official ranking system to help you know which ones are dank and which ones are just okay. To do this, each meme will be rated using a scale of McKayla Maroneys (the Olympic vaulting champ of London 2012 whose podium "McKayla Maroney is not impressed" scowl is the discerning stuff of legend). The more McKaylas a meme receives, the better it is. So without further ado, please rise:
Keirin is an indoor-cycling sport where athletes race around a track after a controlled speed start led by a person riding a motorized bike known as a derny. Passing the derny rider too early (before the last 2.5 laps of the event) is grounds for disqualification, which led to some confusion at the men's final after all the riders jumped the gun on the derny … twice. I couldn't tell you who won the event (I Googled it, congrats to Jason Kenny of Great Britain), but the derny rider was the clear meme star of the evening.
Rating: 1 out of 10 McKaylas for keeping a straight face while riding a tiny bicycle around and for maintaining excellent posture.

Shoutout to whoever at the IOC decided that green would be the basis for all Rio design aesthetics. The choice effectively turned every arena, stadium, gymnastics mat, and tennis court into a massive green screen just waiting to be Photoshopped by computer-savvy viewers.
Rating: 2 out of 10 McKaylas for being a gag that works at just about any event except swimming. (Though there was that whole green pool thing, so maybe there is hope.)

You wouldn't think the world's most elite swimmers would need to be watched like toddlers at the community pool, but each Olympic swimming race is staffed by a lifeguard just in case. About 75 lifeguards watched over the water sports at the Games this year, with this woman guarding a swimming practice becoming the most iconic.
Rating: 4 out of 10 McKaylas for safety.

An early meme contender, Tonga's greased-up flag bearer, Pita Taufatofua, made Twitter feel some, um, things as he marched proudly during the parade of nations in the Opening Ceremonies. And then again as the ladies of The Today Show (and also Al Roker) greased him the next day on the show.
Rating: 5 out of 10 McKaylas for would you please just look at him.

Simone Biles is an athlete so decorated, so skilled, and so impressive, she even has a move named after her. Dubbed "The Biles" it involves the 19-year-old completing two laid-out backflips with a half twist before landing on two feet and throwing her arms in the air in victory. Or in meme-speak, it involves her leaping into the stratosphere and rotating endlessly in her rightful place among the stars.
Rating: 6 out of 10 McKaylas for being out of this world. (Sorry.)

As they sprinted across the finish line of the men's 200-meter semifinal, Usain Bolt and Andre de Grasse took a moment to share a laugh. Though Bolt took first place, de Grasse, who took second in the semi, gave him a run for his money and kicked up the pace during the last few meters. The two only had eyes for each other as they came across the finish line, an image that would spawn 72,000 "find someone who looks at you like Usain Bolt looks at Andre de Grasse" tweets. (Apologies to the runners behind them who were still not done trying to qualify for an Olympic final.)
Rating: 6 out of 10 McKaylas for endearing sportsmanship and some finger-wagging that would make Lilly King proud.

Shaunae Miller left it all on the track when she dove across the finish line to defeat Team USA's Allyson Felix in the women's 400-meter final. A great Olympic moment that made for an even greater and truly relatable meme. We have all at some point — whether reaching for the last slice of pizza or jumping off the couch to make it look like you were doing homework when your parents got home — been Shaunae Miller.
Rating: 7 out of 10 McKaylas for a willingness to bleed for that gold medal.

While preparing for the men's 200-meter butterfly semifinal, Michael Phelps looked less than pleased as his South African competition, Chad le Clos, performed an elaborate shadow-boxing routine nearby. (After the fact, Phelps told reporters he wasn't even looking at what le Clos was doing. Sure.) Either way, this was the face that launched a thousand memes at the 31st Olympiad.
Rating: 8 out of 10 McKaylas for novelty value and excellent unintended shading skills.

On top of his excellent moment with Andre de Grasse in the 200-meter semifinal, this image of Bolt's blurry legs and cheesy grin during the men's 100-meter semifinal is, in our humble opinion, the best meme of the games. With eight gold medals and two quality memes, is there anything Usain Bolt can't do?
Rating: 10 out of 10 McKaylas for being so unbeatable you have time to mug for the camera mid-race and somehow still seem like a really excellent, not-at-all annoying, guy.

The saga of Ryan Lochte, those other tall white swimmer dudes, and the curious case of non-robbery at the gas station at nighttime is a blight on an otherwise spotless week of memes. It bears mentioning here only as a reminder that this behavior, even for all the Twitter jokes it birthed, is bad and should not be repeated.
Rating: 0 out of 10 McKaylas for being the antithesis of "Jeah!"