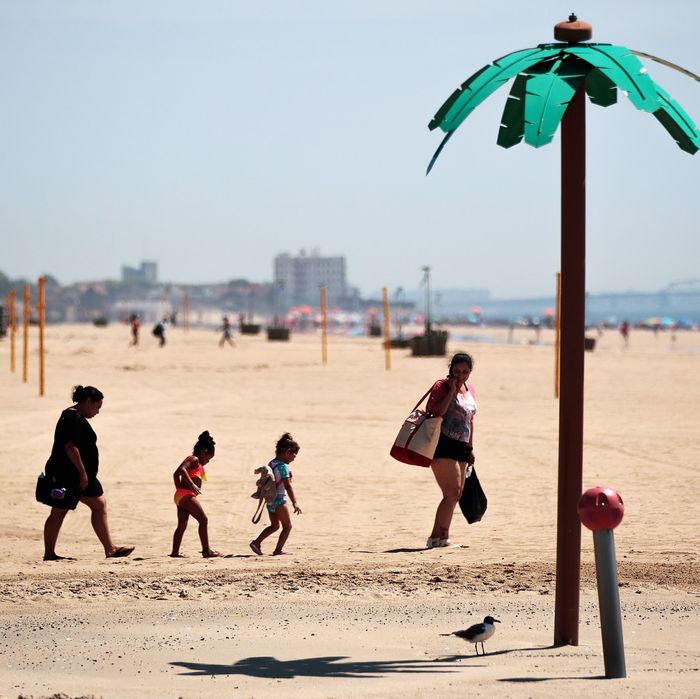 Life's a beach in Coney Island this week.
Photo: Drew Angerer/Getty Images
The tropical-weather nightmare is over. A cold front pushed into the East Coast on Sunday night, bringing downpours but also ending the oppressive reign of heat and humidity. The New York City area is in for some perfect beach weather this week, which will be enjoyable whether or not you actually make it to the beach.
Monday's highs will be slightly above 80 degrees. The National Weather Service predicts "dry and cooler conditions across the region as high pressure builds in from the east and dominates through the middle week." It might be a good time to give the air conditioner an evening off, too, as overnight temperatures in will drop into the 60s, and even the 50s in some areas north and west of the city.
The heat will start build again toward the start of the weekend, reaching close to 90 by Friday and Saturday. But, with the exception of a few pop-up showers on Friday, it's going to stay sunny and clear. The humidity will also tick up, but the real feel temperatures (the heat and dew point combined) won't be anywhere near the 100-degree-plus mark of recent weeks. All in all, not a bad way to start saying good-bye to summer: