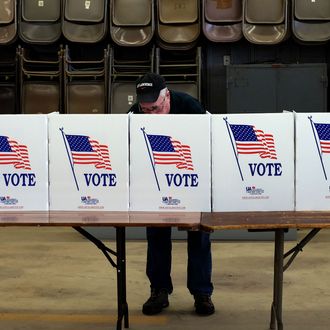 Let's stick with paper, maybe.
Photo: Jewel Samad/AFP/Getty Images
And the hacks just keep on coming. A little more than two months out from Election Day, the FBI believes foreign hackers may have gained access to voter databases in Arizona and Illinois, reports Yahoo News. In Illinois, the cyberattackers reportedly downloaded the personal information for about 200,000 of the state's registered voters. Malware was found on Arizona's system, but it does not appear as if any voter data was compromised.
The FBI hasn't identified a specific source just yet, but a cybersecurity expert told Yahoo that an IP address mentioned in the FBI alert about the attack "has surfaced before in Russian criminal underground hacker forums." Russia has also been suspected in the hack on the Democratic National Committee, the Democratic Congressional Campaign Committee, and on about 100 Democratic officials — many with links to the Clinton campaign. News of this state-election system hack also comes almost two weeks after a group calling itself the Shadow Brokers apparently staged a successful cyberattack on the National Security Agency.
The FBI recently warned state election boards to step up cybersecurity and Department of Homeland Security Secretary Jeh Johnson led a call with state election officials on August 15, where he reportedly offered federal assistance to "scan for vulnerabilities" in local election systems. Homeland Security officials also instructed election boards to take common-sense precautions, like leaving the electronic voting machines offline.
Officials also haven't ruled out the possibility that these hackers might have just wanted to get voter information for a regular old identity-fraud scheme, but the alleged breach is particularly troubling amid worries that Russia or another state-sponsored meddler may attempt to disrupt or influence the presidential elections. And Trump's assertions that "election's gonna be rigged" play into this climate.