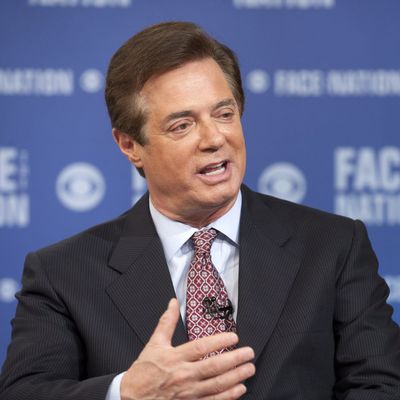 Insane in the Ukraine.
Photo: CBS Photo Archive/Getty Images
American lawmakers make a lot of decisions that affect foreign governments. Foreign governments are, thus, willing to pay American lobbyists a lot of money to try to influence those decisions. American lobbyists like working with such governments, because foreigners' lack of familiarity with our nation's hallowed system of legal bribery makes them easy to sucker into paying too much, for too little.
There's just one snag: When you lobby on behalf of a foreign government, you have to publicly declare you're doing so, and then submit a bunch of arduous reports to the Justice Department. It's lousy public relations and a real pain in the ass.
To get all the fun parts of taking money to influence your government on behalf of a foreign state — without all that hassle — lobbying firms will sometimes work with shady nonprofits that are really just fronts for foreign political parties. According to the Associated Press, Trump campaign chairman Paul Manafort helped set up precisely this arrangement for the party of former Ukrainian president (and Putin ally) Viktor Yanukovych. Per the AP:
Manafort and business associate Rick Gates, another top strategist in Trump's campaign, were working in 2012 on behalf of the political party of Ukraine's then-president, Viktor

Yanukovych.

People with direct knowledge of Gates' work said that, during the period when Gates and Manafort were consultants to the Ukraine president's political party, Gates was also helping steer the advocacy work done by a pro-Yanukovych nonprofit that hired a pair of Washington lobbying firms, Podesta Group Inc. and Mercury

LLC

.

The nonprofit, the newly created European Centre for a Modern Ukraine, was governed by a board that initially included parliament members from Yanukovych's party. The nonprofit subsequently paid at least $2.2 million to the lobbying firms to advocate positions generally in line with those of Yanukovych's

government. That lobbying included downplaying the necessity of a congressional resolution meant to pressure the Ukrainian leader to release an imprisoned political

rival.
The Podesta Group is a lobbying firm founded by the brothers Tony and John Podesta. If you feel like you've heard the latter name recently, that's because John Podesta is the chairman of Hillary Clinton's presidential campaign. In other words, if this story is true, then the Republican nominee's campaign chairman worked with the family business of the Democratic nominee's campaign chairman to illegally lobby Congress on behalf of Vladimir Putin's favorite political party in Ukraine.

Our political system is the envy of the world.
The report comes just after Donald Trump demoted Manafort, while promoting another adviser, Kellyanne Conway, to his former post as campaign manager. Trump also hired Breitbart News chair Stephen Bannon to be the campaign's chief executive. Earlier this week, the New York Times reported that Manafort may have received $12.7 million from Yanukovych's party between 2007 and 2012.