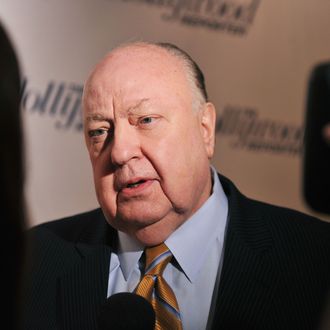 Roger Ailes.
Photo: Stephen Lovekin/2012 Getty Images
New reports suggest the atmosphere at Fox News under Roger Ailes was more Nixonian than previously thought — though none of it should really come as a surprise since Ailes got his start in politics working for our most paranoid president.

On Monday, Vanity Fair reported that the settlement in Gretchen Carlson's sexual-harassment lawsuit against Ailes may reach "eight figures" due to "the existence of audio tapes recorded by multiple women in conversation with Ailes, two people familiar with the tapes said." The magazine did not elaborate on what the tapes might contain, but with multiple women now claiming that they too were sexually harassed by the former CEO, we have an idea.

In those settlement negotiations, 21st Century Fox is reportedly asking Ailes to fund part of any agreement with Carlson. Ailes has denied all the allegations, but according to Vanity Fair his attorneys are pushing to have the negotiations with Carlson take place in private arbitration due to the recordings. "If they litigate the case, all the tapes will become public, directly and through others," a source said. "Then you will have a parade of women come in. Nobody wants that."

Another Fox News personality joined that list Monday. New York reported that Andrea Tantaros was allegedly demoted and later taken off the air after accusing Ailes of sexual harassment in 2015. But sources told BuzzFeed and Politico that Tantaros never complained about Ailes, but instead made allegations against at least four other people — both Fox News employees and on-air guest personalities — over inappropriate behavior.
Meanwhile, CNNMoney's Dylan Byers says Fox News staffers feared that Ailes was spying on them. On Sunday, New York's Gabriel Sherman reported that the CEO used the Fox News budget to "hire consultants, political operatives, and private detectives" to go after journalists he considered his enemies. Byers adds that six current and former employees told him the network's producers and on-air talent were afraid that the CEO was tapping their phones and monitoring their conversations.

"We all believe our phones are tapped and that we are monitored," one Fox personality said.
"People definitely felt that the clicks on the line were coming from the inside," another added.
The sources presented no proof that Ailes was actually spying on them, but even if their fears were unfounded, it may explain how Ailes kept a lid on the harassment allegations for so long.