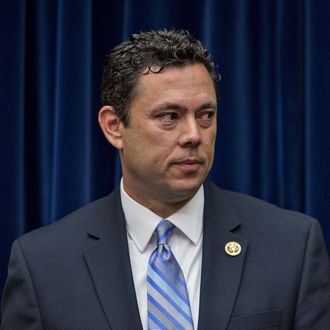 Chaffetz wants to pull back the curtain.
Photo: Andrew Harrer/Bloomberg via Getty Images
The chorus of voices clamoring for Donald Trump to release his tax returns continues to grow, and now another prominent member of his own party has joined in.
Yesterday Representative Jason Chaffetz of Utah, the Republican chair of the House Oversight Committee, called on Trump to release his tax returns and medical records.

Speaking on CNN and using a colorful if potentially problematic metaphor, Chaffetz said: "If you're going to run and try to become the president of the United States, you're going to have to open up your kimono and show everything, your tax returns, your medical records … You're just going to have to do that, it's too important."
Chaffetz made a point to call out Hillary Clinton as well, saying that "both candidates, Donald Trump and Hillary Clinton, should show both their medical records and tax returns, absolutely." The Hillary mention seemed mostly rhetorical; while she has been cagier about her medical records, she has made her tax returns public from as far back as 1977.
Many believe that Trump is reluctant to release his taxes because they will show how little he pays in taxes — if he pays any taxes at all. But there could be any number of reasons that he won't make the documents public. Trump helms a large and often mystifying business empire that notoriously doesn't stand up to much scrutiny. Or he might not want people to see how little he gives to charity.
There's also the issue of Trump's net worth. Trump's business success comes in part from the power of his name, which he hopes is synonymous with the billionaire-tycoon lifestyle. Trump has claimed he is worth $10 billion, but many have disputed that. If his worth is shown to be less than what he says it is, maybe even languishing in the measly hundred-millions, the revelation could be bad for his presidential campaign and disastrous for his brand.
Yesterday, Donald Trump's son, Eric Trump, chimed in on the controversy, telling CNBC that it would "be foolish" for his dad to release his tax returns. Calling himself "the biggest proponent of not doing it," he reiterated his father's old argument that he can't release his tax returns while under audit by the IRS. "No tax attorney in the world who will tell you to release your tax returns while you're under a standard routine audit," he said.

However, many tax attorneys have said that that is not the case.
Eric Trump added that even if the public got their hands on his dad's tax returns, they wouldn't know what to do with them. "You would have a bunch of people who know nothing about taxes trying to look through and trying to come up with assumptions on things they know nothing about," he said.