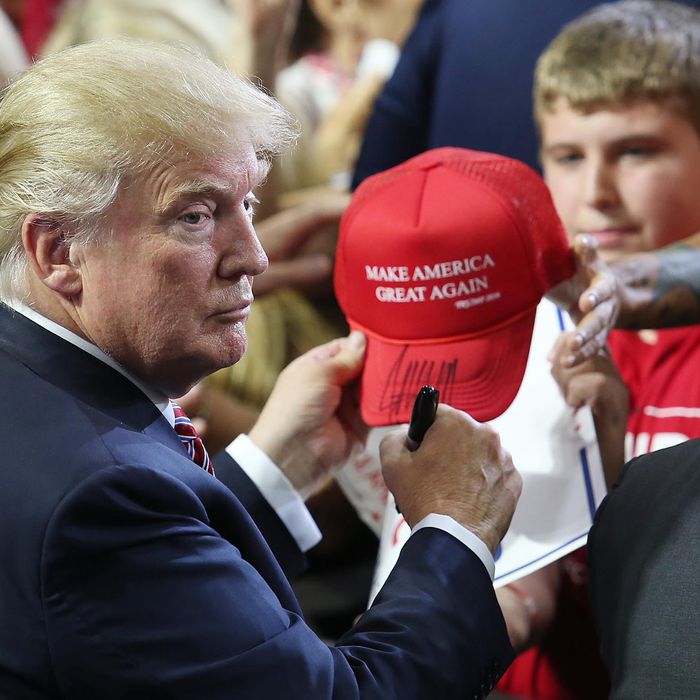 Or don't make it great again. Whatever.
Photo: Stephen M. Dowell/Orlando Sentinel/TNS via Getty Images
Like a surly teenager, Donald Trump is determined to do the exact opposite of what the Republican Establishment wants him to do. Last week, supporters urged the candidate to focus on Hillary Clinton rather than saying whatever incoherent thought passed through his head, so he alluded to gun owners shooting Clinton and called President Obama the literal founder of ISIS. By Thursday, he was so off-message that he was repeatedly alluding to the possibility that he will lose the election.

While the vast majority of Republicans are still endorsing Trump, they're becoming more open about their fear that his loss will be so big that it costs the party its majorities in the House and the Senate. Speaking to a civic group in his home state of Kentucky, Senate Majority Leader Mitch McConnell admitted on Thursday that the GOP's chances of holding on to a majority in the upper chamber are "very dicey," and the GOP would be "on defense" in this year's election.
Rather than blaming Trump, McConnell noted that 24 Republicans seats are on the ballot, compared to ten for Democrats. But, he did say that he hopes Trump "settles down and follows the script."
However, the last two weeks have convinced many other Republicans that Trump's general-election pivot is never coming. According to the Washington Post, some of the GOP's wealthiest donors are contributing to down-ballot races across the country in an effort to maintain Republican control of Congress. And on Thursday, Politico reported that more than 70 Republicans — including former members of Congress and former RNC staffers — signed an open letter urging RNC chair Reince Priebus to stop funding the Trump campaign and put the money toward Senate and House races instead.

"We believe that Donald Trump's divisiveness, recklessness, incompetence, and record-breaking unpopularity risk turning this election into a Democratic landslide, and only the immediate shift of all available RNC resources to vulnerable Senate and House races will prevent the GOP from drowning with a Trump-emblazoned anchor around its neck," says the draft. "This should not be a difficult decision, as Donald Trump's chances of being elected president are evaporating by the day."
Both Preibus and the Trump campaign denied a Time report that the chair had already threatened to defund the candidate (the magazine issued a correction). A high-level RNC source told CNN, "There have been talks about the handling of (Khizr) Khan and about (House Speaker Paul) Ryan, but the issue of reallocation of resources has never been on the table."
But now Politico reports that a gathering of Trump campaign staffers and top Republican Party officials — which one operative called "a come-to-Jesus meeting" — is scheduled for Friday in Orlando. It was reportedly requested by Trump staffers who are frustrated that despite their best efforts, the media is focused on their candidate's constant stream of gaffes rather than Clinton. "They want to patch up a rift that just keeps unfolding," said a source. "They finally realize they need the RNC for their campaign because, let's face it, there is no campaign."
Karen Giorno, a senior adviser to the campaign, said there's no strife, and it's just a "typical" meeting. But even if there is an "emergency meeting" taking place on Friday, Trump doesn't care. "If it is true, that's okay too because all I have to do is stop funding the Republican Party," he said Thursday night on Fox News. "I'm the one raising that's funding, I'm the one that's raising the money and other people are getting to use the money that I raised."
Trump clearly doesn't care about Republicans holding Congress, and he's started to acknowledge that he might not get a chance to make America great again. In a CNBC interview on Thursday morning, Trump said three times that he has no intention of changing his strategy, even if it means losing in November. "I just keep doing the same thing I'm doing right now," he said. "And at the end, it's either going to work or I'm going to have a very, very nice long vacation."
Later in the day, he admitted to a room of 700 Evangelical pastors and church leaders in Florida, "We're having a tremendous problem in Utah" — a state that hasn't voted for a Democratic president since 1964. And in Virginia, Trump said he'll only win if Evangelicals turn out in greater numbers than in 2012. "Had you voted for Romney, it would have been much closer," he said. "You didn't vote for Romney, the Evangelicals. Religion didn't get out and vote."
But Trump did suggest that he's still interested in winning the presidency, as long as he doesn't have to change his behavior in any way. "Once I get in, I will do my thing that I do very well," he told the crowd in Florida. "And I figure it is probably, maybe the only way I'm going to get to heaven. So I better do a good job."