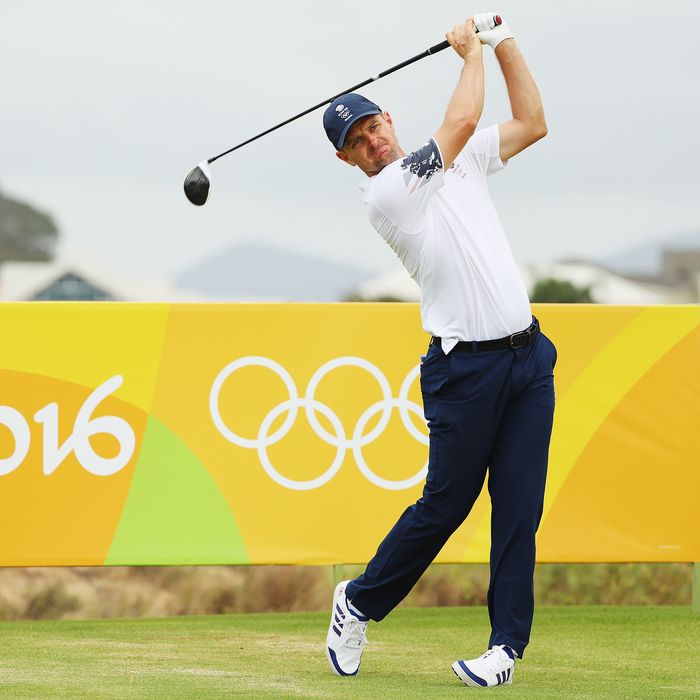 Photo: Scott Halleran/Getty Images
For the first time in 112 years, golf will be played at the Olympic Games this summer and with tee times set for Thursday morning, the IOC still has time to ask for a mulligan on this one. Just pack it in, get to work in Tokyo, and try to avoid the catastrophe that has befallen the sport of kings in Brazil.
The trouble began years ago when the IOC told Rio it needed to build a brand-new course. The city compounded the problem by selecting a site that's been described as an "informal nature reserve," home to an incredibly diverse population of wild animals. Biologist and activist Marcello Mello described building the course as an "environmental crime" in an interview with The Guardian. But the Rio City Council saw things differently and found its way around strict environmental laws by passing a law in an emergency session during the holidays that allowed the course to be built.
Now Olympic organizers are reaping what they've sown as a capybaras, crocodiles, and boa constrictors invade Rio's newest golf course. Disruptions by wildlife who find highly manicured fairways where their homes once stood will be handled by five on-site biologists.
The upending of a nature preserve is made all the more ridiculous when one considers the world-class golf course that Rio already has. That's why this new course prompted its very own protest movement. The opposition is angry about the seemingly unnecessary effects on flora and fauna, and about what will happen with the course after the Games. While it will be a public course in name, it's going to be pricey — the type of leisure activity available only to those who live in the luxury high rises that will soon surround the course.
In fact, some critics have argued that the whole reason the new course was built was to create a new, private luxury housing development around it. The developer that paid for the course was rewarded with the ability to construct 23 22-story high rises around the course. Previous zoning regulations capped construction at six stories. "Without a doubt, the Olympics are a giant real estate scam," activist Marcello Mello said.
Even if Olympic golf had been played on one of Rio's existing courses, it would have caused trouble, as most of the world's top golfers are sitting out of the Games. Several of the abstainers said it was because of Zika and, okay, maybe it was a little. But it is hard not to see the defections as a consequence of Olympic golf simply not mattering. Medals are not as important as PGA majors and winning in the Olympics certainly doesn't pay anything like those events.
Unlike some of his compadres staying home from Rio, Rory McIlroy had no trouble admitting why he wasn't going. "I didn't get into golf to try to grow the game. I got into golf to win championships and win majors," he said. Asked if he'd even watch the Games on TV, McIlroy said, "Probably events like track and field, swimming, diving, the stuff that matters." Ouch.
The truth is, even if the top-four golfers in the world (McIlroy, Jordan Spieth, Dustin Johnson, and Jason Day) were in Rio, there's no guarantee the event would be a success. For that, you need clubs, and as American Airlines has proven by temporarily losing Argentinian golfer Emiliano Grillo's clubs, when it comes to the Olympics and golf, whatever can go wrong will go wrong.