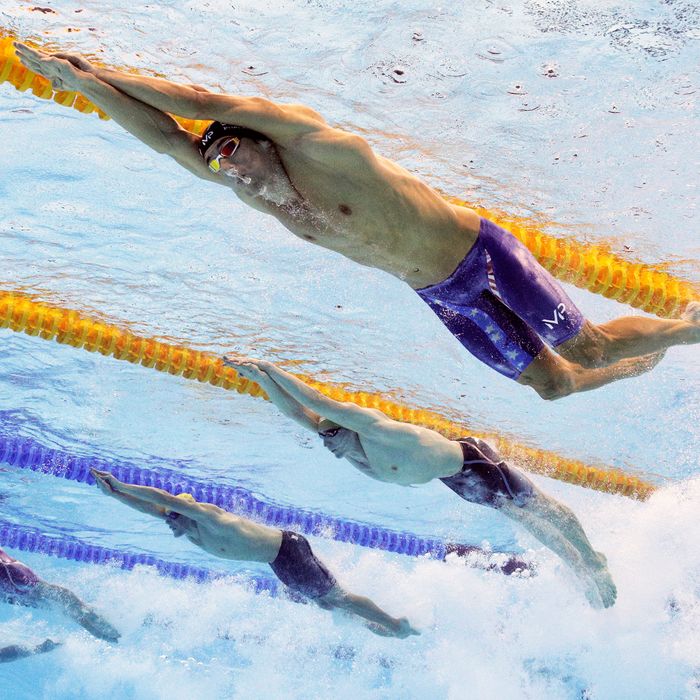 Michael Phelps.
Photo: Adam Pretty/Getty Images
Critics and social media have savaged NBC's early coverage of the Rio Olympics — and the early ratings verdict from Nielsen has not been any kinder. Viewership for the first three nights of the Peacock's prime-time broadcasts is down sharply compared to both the 2012 London and 2008 Beijing games, with younger audiences bailing in particularly big numbers. It's not all bad news: Tens of millions of Americans are still watching the Olympics, some viewing has likely shifted to online platforms not immediately measured by Nielsen, and Sunday's swimming-centric schedule resulted in a big ratings surge. But if the early pattern holds, Rio will be the first summer Olympics since Sydney 2000 to score lower Nielsen numbers than its predecessor.
The first sign of trouble for NBC's Rio ratings came Saturday morning, when data for Friday's never-ending opening ceremony came in. Per Nielsen, the minimalist curtain-raiser notched a 13.9 household rating (i.e., the percentage of homes with TV sets tuned to the Olympics). While that's more than two times the audience for the typical episode of the summer's No. 1 series, NBC's America's Got Talent, it represents an eye-popping 35 percent drop from night one of the London games (which notched a 21.0 rating) and the lowest rating for an opening ceremony in at least 20 years. (The runner-up? Athens 2004, which averaged a 14.6 rating.) Worse, the 13.9 rating is just barely ahead of the average edition of NBC's Sunday Night Football last fall (12.9) rating.
Things didn't improve much on Saturday, the first night of competition: NBC averaged an 11.4 for its prime-time broadcast, down about 28 percent from London's 15.8 and another at least 20-year low. Part of the problem is big defections among millennial audiences, i.e. the audience segment most likely to be turned off by NBC's non-stop commercial breaks. Final numbers aren't in yet, but among adults aged 18 to 34, it looks like Friday's opening was down around 43 percent compared to London (versus the aforementioned 35 percent decline among viewers of all ages). Perhaps some of that audience shifted to NBC's livestream simulcast, but given how much of the network's ad revenue is tied to linear ratings, that won't be of much comfort to Peacock accountants. Still, expect NBC to play up big gains for digital and other platforms when it releases so-called "total audience" measurement data later this week.
It's also far too early to declare Rio any sort of ratings disaster. NBC's Olympics ratings often rise and fall based on how well the U.S. team is doing at any given time, and Sunday's stellar swimming performances by Katie Ledecky and Michael Phelps — telegraphed by social media ahead of their broadcast to American audiences — delivered a massive Nielsen boost for NBC. Early numbers show the network's prime-time coverage jumping to a best-yet 15.9 household rating, the first time since Athens 2004 that a night three of the Olympics has come in ahead of the opening ceremonies. What's more, while viewership was still down compared to London, it fell a more modest 20 percent and looks to be above tune-in for the comparable nights in both Athens and Sydney. If Team USA can keep winning, NBC still has a shot at making up some of the losses from the first weekend of the Games.
As for the why of early Olympics ratings declines, it's too soon to make any definitive pronouncements about what's going on. It's absolutely true audiences are doing much more streaming of live video now than even just four years ago, and that some cable and over-the-air viewers are now watching on their phones and laptops. But it seems doubtful all of the losses can be chalked up to people moving to other platforms. What seems more likely is that, much as ratings for everything in TV have taken a plunge over the past half-decade, the Olympics are proving they're not immune from the erosion virus. Remember: This is the first summer Olympics to take place in the age of Netflix (and Hulu and Amazon Prime Video). House of Cards hadn't even debuted when the London games played out. Netflix, which had barely 25 million U.S. subscribers in the summer of 2012, is now flirting with close to 50 million here. The amount of original content streaming this summer compared to four years ago has also exploded exponentially. The once-every-four-years nature of the Summer Olympics and the immediacy of the competition makes the games the exact kind of offering designed to counter the rising threat of streaming. But it seems naïve not to at least consider the notion that at least some segment of the populace — those of us who aren't Olympics die-hards— spent part of their weekend checking out Stranger Things instead of watching Hoda Kotb drool all over Tonga's Olympic flag-bearer.