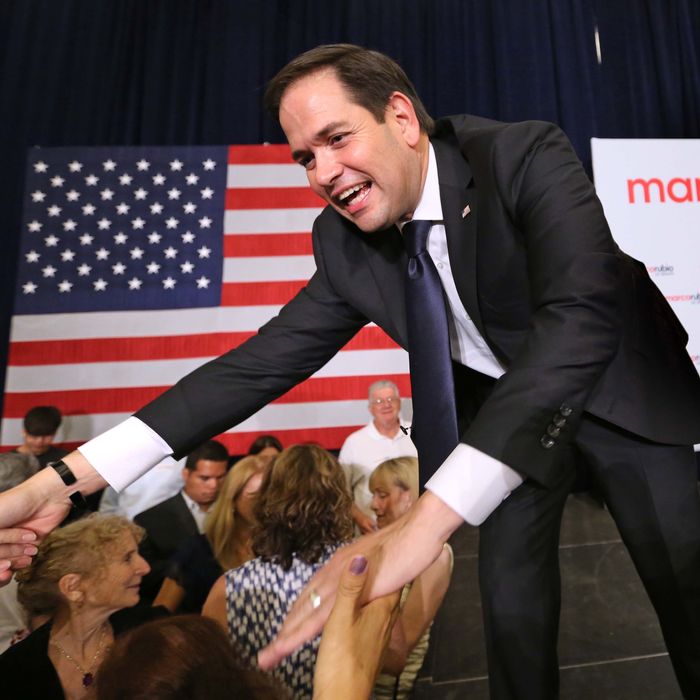 Rubio victorious.
Photo: Joe Burbank/TNS via Getty Images
Incumbents prevailed in some of the most closely watched primary contests yesterday. Marco Rubio, who just a few months ago vowed to quit politics, managed to hold on to his seat — though it may have been a bittersweet victory, given reports last year that Rubio "hates" working as a senator.
John McCain also trounced his opponent, Kelli Ward, who questioned McCain's conservative credentials and recently said that he was too old — McCain is 80 — to serve for a sixth term.
If McCain and Rubio were facing challengers from the right, Debbie Wasserman Schultz was facing an opponent from the left: the outspoken progressive Tim Canova, who scored an endorsement from none other than Bernie Sanders.
Despite having to step down from her position heading the Democratic National Committee after emails released by WikiLeaks suggested that she was biased in favor of Hillary Clinton, she still managed to beat Canova with 57 percent of the vote.
Four incumbents did lose their seats: Republicans Renee Ellmers of North Carolina, Randy Forbes of Virginia, and Tim Huelskamp of Kansas, as well as the Democrat Chaka Fattah, who is facing an indictment in Pennsylvania.
This year's primaries were under increased scrutiny due to the potential of disruption from Trump/Sanders-affiliated candidates. In the end, the Establishment carried the day.