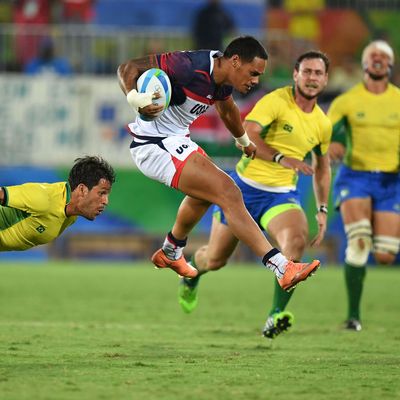 Photo: Pascal Guyot/AFP/Getty Images
The last time rugby was an Olympic sport, a ragtag team of "street fighters and saloon brawlers" from the U.S. won the gold medal. The year was 1924, and the Americans were one of three teams to field a rugby team at the Paris Games. It's little wonder the game got dumped.
Ninety-two years later, rugby is back in the Olympics, but the game being played in Rio hardly resembles the one played in 1924. For starters, this is rugby sevens — a faster-paced, more wide-open version of the bigger game, which has 15 players per side. Halves are only seven minutes long, with a two-minute halftime, meaning the whole affair is over in less time than it takes to play an inning of baseball. That explains why it's this form of rugby that's in the Olympics: Teams can play two games a day on consecutive days, allowing an entire tournament to be crammed into 72 hours.
The rules of rugby sevens are simple enough, but they aren't really important to those watching on TV or, in the U.S., streaming games online. Just know that players can pass the ball backward or kick it over defenders, as they attempt to run to the "try zone" to score a "try." It's like a touchdown, except the player has to actually touch the ball down on the ground. That's worth five points, but players kick a "conversion" for two points. Defenders, meanwhile, are trying to tackle the ball-carriers. If they succeed, the ball-carrier can roll the ball back to a teammate, who will keep it moving.
Rugby sevens moves at a relentless pace, making it easy to watch without knowing a damn thing about it. Play rarely stops, and when it does, it quickly restarts. Even if you have no idea why the whistle is blowing, there's little time to worry about it; thick-necked ruffians will quickly resume slamming into each other. The game's constant motion is similar to soccer's. But with 76 fewer minutes in the game, rugby sevens has a breathless urgency you only see in extra time on the soccer pitch.
Rugby sevens doesn't seem to require any of the skill or precision of the beautiful game either. At least, I didn't see that in the few matches I've streamed from Rio. The players are built more like NFL players — not the fat ones — and they hit like them, too. They're not wearing pads, though, which seems crazy, but is a pretty good deterrent from using your head as a missile. Still, based on the ratty head-wraps players are wearing in Rio, it appears to come with its own dangers.
The most fun I've had watching rugby sevens, apart from when a Kenyan player got pantsed, was seeing ball-carriers throw a few jukes at defenders and break away for a try. If you watched the NFL in the '90s, it's impossible to watch rugby sevens and not think, "Damn, Barry Sanders would have dominated this game."
The overlap between football and rugby is hard to miss in Rio, where Patriots safety Nate Ebner is a starter for the men's team. The blazing-fast Carlin Isles, who took up rugby after running track and playing football in college, was briefly a member of the Detroit Lions practice squad. Both of them scored in Tuesday's 26-0 win over Brazil.
It's going to take a lot more than two football converts to turn the U.S. into a rugby-sevens powerhouse, though. Unlike the last time rugby was in the Olympics, the Americans are underdogs in Rio. Although, really, everyone is an underdog as long as Fiji is still playing. The tiny island nation is home to one of the sport's superpowers, and in Fiji, rugby is everything. When the Fijian Olympic roster — which includes a prison warden and two bellhops — was announced earlier this summer, the responsibility to do so fell to the country's prime minister.
"People expect nothing but gold," the rugby sevens team's captain, Osea Kolinisau, told Time. "Pressure, that's pressure. Huge pressure. A lot of pressure. Especially for the first time at the Olympics."
It's almost enough to make you temporarily put aside allegiances, put down the American flag, and pull for Fiji to win its first-ever medal in any Olympic sport. Almost.