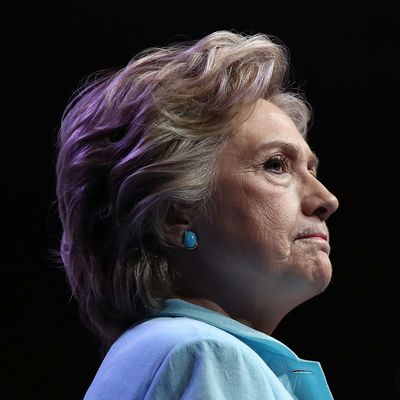 Damn emails.
Photo: Win McNamee/2016 Getty Images
Donald Trump's (ostensibly sarcastic) dreams are coming true. Officials tell the New York Times that the cyberattack targeting Democratic officials, which led to the resignation of DNC chair Debbie Wasserman Schultz last month, was much wider than originally thought. It's believed that in addition to the Democratic National Committee and the Democratic Congressional Campaign Committee, Russian hackers breached the private email accounts of more than 100 Democratic officials and groups. Clinton campaign officials were among the main targets, and it appears the Democratic Governors' Association was also breached.

The FBI has broadened its investigation and agents have begun notifying those who were affected. The House and Senate Intelligence Committees were briefed on the DNC hack last week, and according to a staff member, they said they are almost certain that the Russian government was behind the cyberattack.

It's unclear if the attack was part of Russia's routine cyberespionage effort, or an attempt to influence the presidential election. So far, it appears only Democrats have been hacked.

Wikileaks published 20,000 leaked DNC emails from that alleged hack on its site just days before the Democratic National Convention. Naturally, WikiLeaks founder Julian Assange won't say how the organization obtained the DNC emails, or if the Russians were involved. But last week he admitted that the trove was purposely released to coincide with the DNC, and he promised that more leaks are coming. "We have more material related to the Hillary Clinton campaign," he told CNN. "That is correct to say that."
Assange has criticized Clinton for being a "war hawk" and an enemy of freedom of the press — plus, on a personal level, she pushed to indict him for his role in publishing classified government documents obtained by Chelsea Manning. But last weekend Assange denied that his aim was derailing the Clinton campaign. "We are very interested in power and publishing the truth about power so people can work out however they choose so they can reform power," he said.

Nevertheless, if Democrats weren't already worried about an October surprise, they are now.