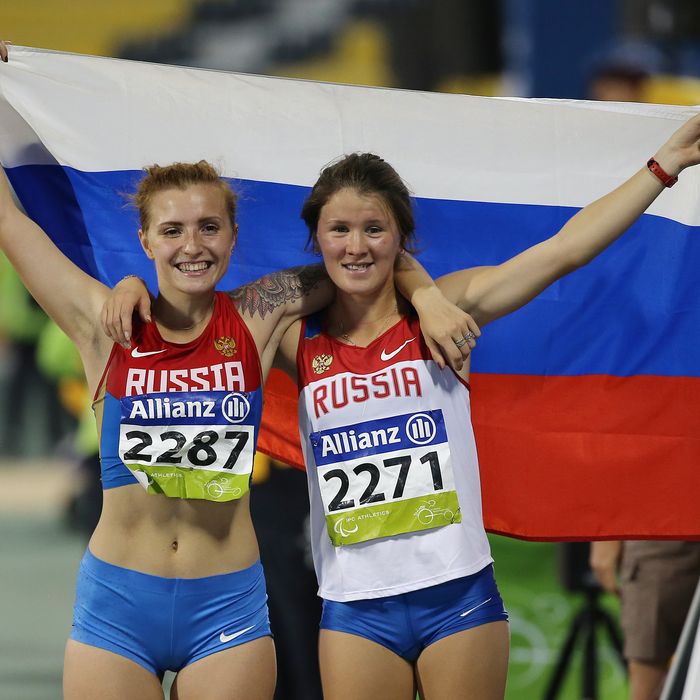 Russian Paralympians Anna Sapozhinikova (L) and Zhanna Fekolina (R) celebrate at the IPC Athletics World Championships in 2015.
Photo: Karim Jaafar/AFP/Getty Images
While the International Olympic Committee ultimately and controversially opted against banning Russia's entire Olympic team from the Rio Games, following a report detailing widespread, state-sponsored doping of the country's athletes, the International Paralympic Committee has now confirmed that it will be using the nuclear option on Russia's Paralympic team. The BBC reports that IPC president Sir Philip Craven announced at a news conference on Sunday that the decision to suspend the entire Russian team happened because "the Russian Paralympic Committee is unable to ensure compliance with and enforcement of the IPC anti-doping code and the world anti-doping code within its own national jurisdiction and it can not fulfill its fundamental obligation as an IPC member." Craven then went on to condemn the Russian government for failing its athletes with its "medals over morals" mentality and a system that "is contrary to the rules and strikes at the very heart of the spirit of Paralympic sport."
Two hundred and sixty-seven disabled Russian athletes from 18 sports are now prohibited from competing in the Rio Paralympics, which will begin in about a month, following the Rio Olympics. Russia's Paralympic team finished the 2012 Winter Games in Sochi with the second-highest medal count, but an investigation by the World Anti-Doping Agency found that Russian athletes at the 2012 Olympics and Paralympics benefited from an elaborate cheating scheme involving the Russian government's Ministry of Sport, its anti-doping organization, and even its security service.
The Russian Paralympic Committee, which called the ban an "injustice" on Sunday, will apparently file an appeal of the ruling with the Court of Arbitration for Sport.