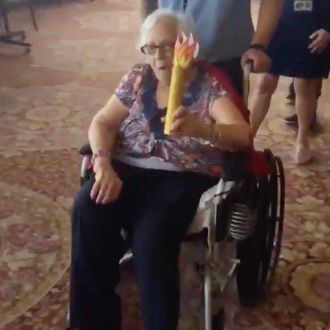 Ryan Lochte swims his first race at the Rio 2016 Olympics tonight, and thanks to his adorable grandmother, he knows he's got plenty of people who are psyched and cheering for him.
The 32-year-old swimmer posted a video to Twitter of the 95-year-old wheeling around her nursing home carrying a homemade Olympic torch. People cheer. Grandma Lochte looks super-happy. It's actually heartwarming. (Not to mention, Lochte and his grandmother are sporting a very similar hair color these days.)
Who knew there could be so much "Jeah!" in one family?